Hornet softball returns home to Shea Stadium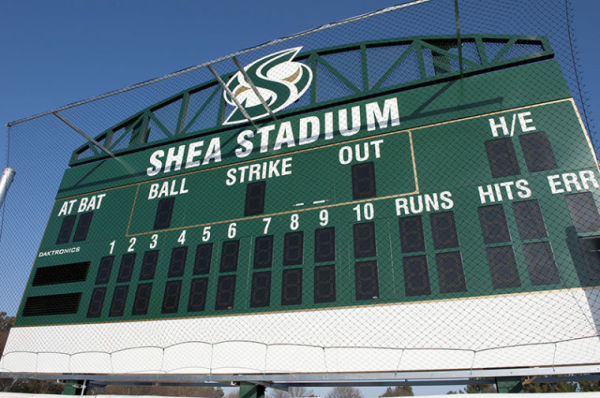 State Hornet Staff
March 14, 2014
There is nothing sweeter than being at home. Sacramento State softball can certainly attest to wanting to get back to playing games at home, since it spent 21 out of its first 22 games on the road to start the season.
This weekend's three-game series starting Saturday against CSU Bakersfield will be three of five consecutive games at home before the Big Sky Conference season, starting on March 21 against the University of North Dakota.
"These next five games before conference are going to be huge for us," said junior infielder Paige Castro. "It's crucial to get the wins at home so we can start the conference season with some momentum."
Coming into this weekend, Sac State has lost the previous six games, with its last win coming against Santa Clara on March 7 at the Cal Poly Mustang Classic tournament. Since then, the Hornets have scored three or fewer runs per game.
Despite their 8-12 record, the Hornets are 1-0 at home this season, which came against Causeway Cup rival UC Davis on March 4.
Castro, like her teammates, is looking forward to coming back to play at Shea Stadium.
"We are excited to come back to the friendly confines of our field and a much bigger support at home," Castro said.
Castro leads the team this season with a .346 batting average, is tied for second on the team with three doubles and third with one triple. Although Castro has produced her fair share this season, Sac State as a whole is woeful in contributing timely hits.
Sac State stranded a total of 74 runners on base to this point in the season.
"The timely hitting is not there for us right now, we are not stringing together the hits we need to in order to score," Castro said.
CSU Bakersfield, however, is coming into this weekend is 6-19 and has won its past two games. The quality wins for the Roadrunners were against UNLV March 8 and Utah State March 11.
The Roadrunners and the Hornets have played once already this season in which Sac State won 11-6 on Feb. 15 at the Fresno State Kickoff Classic. The record against CSU Bakersfield since 1990 is now 12-7.
Softball head coach Lori Perez said the team is going to use this weekend to turn things around before conference starts on March 21.
"The team collectively has to get better on all facets of the game," Perez said. "It's something we have been working on the past couple days."
Along with the games this weekend, Sac State will also be retiring former Hornet softball player Lindy Winkler's No. 3 number on Saturday, in between the two games of the double-header.
Winkler's number will be the second to be retired at Shea Stadium. She is one of the most decorated players in school history, only being the fourth player to be given the honor of All-American during her time at Sac State.
The Hornets and Roadrunners take the field for the second time this season on Saturday at noon in Shea Stadium.
Clifton Jones can be reached on Twitter @SH_Sports