Softball dominates with pitching and offense against USD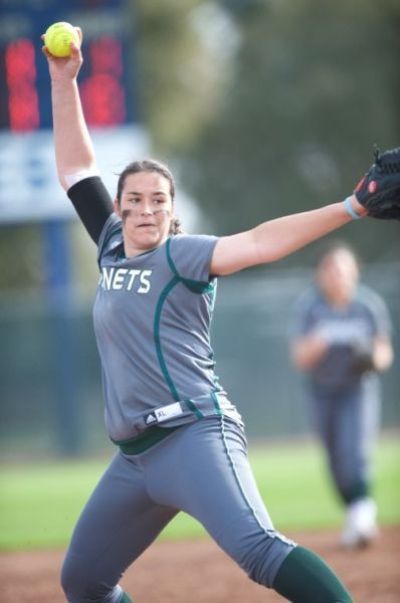 State Hornet Staff
February 23, 2014
Sacramento State softball extended its winning streak to two after beating the University of San Diego in Santa Clara, Calif., Sunday.
After being mercied by the Toreros on Saturday, the Hornets offense took advantage of mistakes by the Torero defense. Sac State freshman center fielder Shelby Johnston, who has been used as a pinch hitter and runner in the last four games, led the Hornets as she went 2-for-3 with one RBI.
"The difference from yesterday and today was the errors we had in the first inning," head coach Lori Perez said. "Today we were better defensively and we were taking advantage of their mistakes."
Sac State failed to produce a single run until the fourth inning.
The Hornets scored seven runs on four of their six total hits in the game with two outs in the top of the fourth inning. Sophomore designated player Sasha Margulies hit a double and later scored on an error by Torero left fielder Morgan Kurtz.
Senior second baseman Yesenia Alcala and sophomore first baseman T.J. Watts scored when junior shortstop Paige Castro reached safely on a bunt single.
The Hornets would add two more after junior left fielder Alexa Chattleton and Castro completed a double steal and scored on a Johnston single.
"[Johnston] did well for us today, came up with some timely hitting and helped us keep the fourth (inning) going for a couple more batters," Perez said.
The Hornets pitching in the last two games have been excellent as senior pitcher Taylor Stroud and junior pitcher Caitlin Brooks shut out both Iowa State and USD respectively. Brooks started against the Toreros finishing with seven innings pitched, allowing three hits, two walks and five strikeouts while not surrendering a run.
The Hornets improve to 5-5 after Sunday's win. Sac State will play Saint Mary's, Saturday in the Gaels Classic at noon in Moraga, Calif.
Clifton can be reached on Twitter at @jonesSHsports