Hilliard makes history in big win over Northern Colorado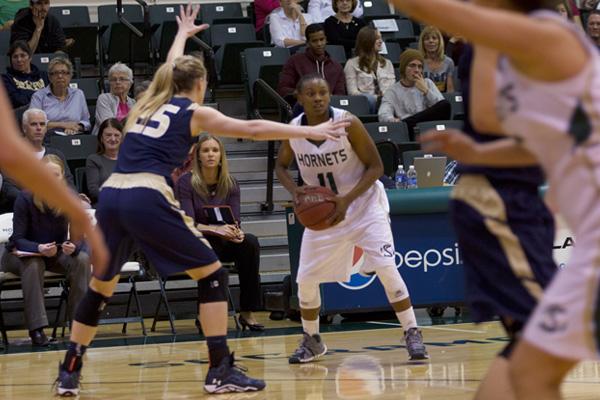 History was made as the Sacramento State women's basketball team defeated Northern Colorado at The Nest Saturday afternoon.
Hornets' junior point guard Fantasia Hilliard set the program record for career assists in a 74-64 win over the Bears. Hilliard entered the contest needing four assists to break the record previously held by Heather Baker of 453.
Hilliard reached the mark on her fourth and final assist with a pass to freshman forward Margaret Huntington with 13:32 left in the game, giving Hilliard 454 career assists to this point.
"It was unbelievable, but I didn't even think about it until today," Hilliard said. "Everyone stepped up today."
As for the game, Sac State (13-4, 5-3) scored the fewest points in a victory this season.
Hornets head coach Bunky Harkleroad said the Bears were making it hard for his team to score in more ways than one.
"I think it was important that we beat somebody that was trying to play keep away," Harkleroad said. "I think them playing slow actually helped us today."
Sac State freshman guard Gigi Hascheff scored a career and game-high 26 points, 18 of which came in the first half.
Hascheff said her high-scoring game was not on her mind and she was proud of the team effort.
"I kind of didn't think so much when I was shooting the ball," Hascheff said. "When in you're in rhythm like that, things seem to go a lot better."
The Bears were led by senior guard Molly Duehn who finished with 17 points, 11 rebounds and five assists.
With the win, Sac State finished it's brief homestand with a 2-0 record and will now hit the road for four games, beginning Thursday at Idaho State.
Satchi Hover can be reached on Twitter @SatchiHover