Associated Students Inc. Farmers Market allows for fresh choices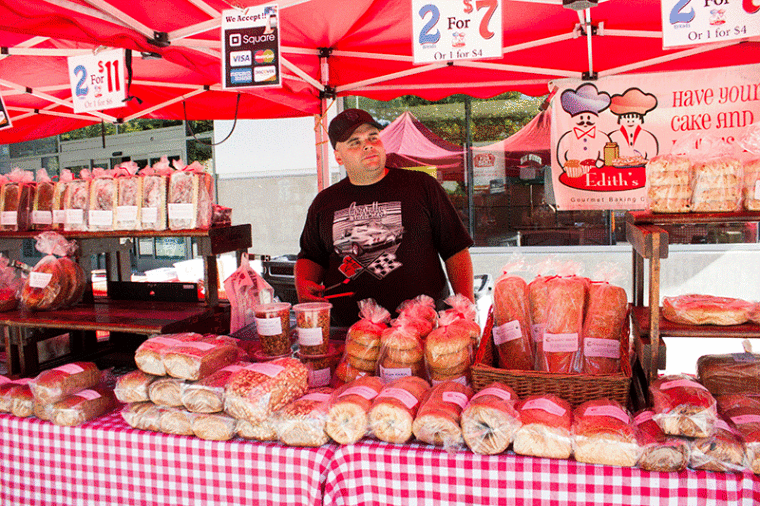 Located in Serna Plaza, the Associated Students Inc. Farmers Market is continuing to help students become aware of healthy choices available to them as winter begins.
Among the main vendors are Loving Nature Pesticide-Free Farms, Thimbleberry Cottage Preserves and Edith's Gourmet Baking Co. Students have been taking advantage of the convenience and friendly prices, said ASI Event Coordinator Daniel Jackson.
Jackson said he is spearheading the Farmers Market event by making sure it influences students' lifestyles.
"I really took charge, because I like the idea of being able to provide fresh and locally grown fruits and vegetables to students," Jackson said. "It goes beyond that and turns into trying to change the campus college student diet lifestyle."
Jackson said he has seen many students come back to the market and thinks the reception has been great.
"The students that come to the Farmers Market love the idea of being able to have fresh fruits and vegetables available," he said. "It's not out of their way to have to go the store. It's right here on their way home or on their way to class. They can stop and grab what they need and it's also in many cases a lot cheaper than what you would end up purchasing at stores."
As the holiday season is approaching, a few vendors are also providing some essential treats for the end of the semester.
Edith's Gourmet Baking Co. Manager Joel Gonzalez said he is enthusiastic about being the sole provider of fresh baked goods at the market.
With a large variety of baked goods that includes rolls, loaves, sliced breads, granola, cookies, bagels and muffins, he said there is something for everyone. Gonzalez said it is all homemade with no preservatives.
"If you want something sweet, you can get the coffee cake or the zucchini bread," Gonzalez said. "If you're more old-fashioned, you go with the banana bread. If you're going to make some sort of sandwich you can do the jalapeno cheese or if you're going more healthy, we've got the honey whole wheat it has no oil and no butter."
As Thanksgiving and Christmas approach, Gonzalez said they have been providing the popular pumpkin bread, along with apple, pecan and carrot cake.
Before Thimbleberry Cottage Preserves owner Don Zuber began selling his jams and jellies alongside his wife Diana Zuber, they would give them away to friends as gifts. Although they have turned their generosity into a business, the tradition of sharing still applies to the season.
"My personal favorite is the apple pie jam tastes just like a slice of apple," Zuber said. "We also have the cabernet sauvignon jelly, which is my favorite also, not only as glaze for meats like pork and chicken but it is also nice with cream cheese and crackers."
Zuber said they make all the jams and jellies in their own home from local fresh produce. Although they do not have any direct links with Sac State, they are the only vendors who are based out of Sacramento.
"We're here every two weeks and we really enjoy it," Zuber said. "This is our best market. We have the most fun here. People are very nice and we enjoy the students."
Jackson said he hopes that the market influences a change in lifestyle for students on campus who otherwise may succumb to less healthy options.
"Rather than students who live on campus in the dorms going to eat at the [Dining Commons] or other places on and off campus that might not be as healthy, we're trying to provide options that are healthy," Jackson said.
As ASI discusses the possibility of creating a community garden for students on campus, members hope students will get more involved with the Farmers Market and make healthier lifestyle choices overall.
"That could really help bring so much to the campus and depending on how it goes, they could start selling and passing out the fruits and vegetables," Jackson said.
The upcoming dates for the Farmers Market are Nov. 14 and Dec. 5.
For more information, visit asi.csus.edu/programs/farmers-market.