A fight breaks out in the stands at the Causeway Classic.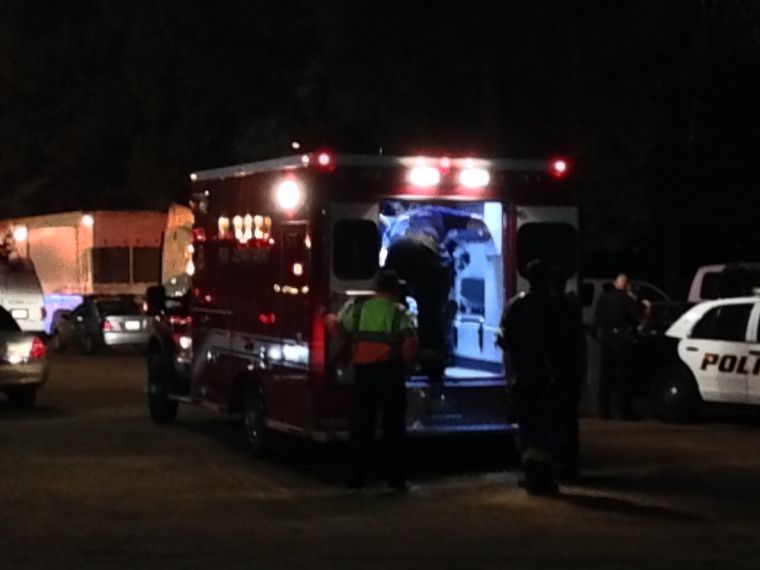 During the 60th Causeway Classic Saturday, a fight broke out in the student section that left one man injured and as many as two people arrested.
 "It was initially an argument about some of the players," said Sacramento State Police Lieutenant Dave Heaphy. "Some (players') family members were there and it led to a physical altercation and there was alcohol involved."
 Heaphy said members from the Sac State special event staff attempted to break the fight up but it got too out of hand for them to handle.
"They tried to resolve it because that is their first function," Heaphy said. "That was unsuccessful so law enforcement had to go in and try to find out what's going on. Obviously people aren't cooperating and we're trying to learn what's going on in a rapidly evolving situation, but people are leaving (the stadium)."
Heaphy said one person was in custody for resisting and battery and a second suspect was being pursued in the investigation. The Sac State Police have not yet released the names of the suspects.
The unidentified injured man was taken away by ambulance after he was vomiting and appeared disoriented, according to Heaphy. The police could not verify any injuries or if the man was assaulted, but he was involved in the melee.
 Sac State students Porscha Hightower and Eryca Simpson were both sitting at the bottom in the student section when the fight broke out.
 "It started at the top of the student section," Simpson said. "I heard a white girl say 'She's only 14' then the white girl slapped a white guy then a big black older guy came and started pushing the white guy and that's when it all started. We got knocked down the bleachers because they came all the way back down to us."
 Hightower said the fight started at the top and people started tumbling down as the fight grew larger.
"It was the whole section at the top (fighting) and none of us at the bottom," Hightower said. "We got kicked out. Just us and one other guy got kicked out. Do we look like we would be in a fight with big 300-pound dudes? We were trying to leave and they decided they wanted to push us out."
Hightower and Simpson said their acquaintance was tazed by the police, but they were unwilling to give his name on the record.
Heaphy said the investigation will take a few days with the hopes that once people sober up they will become more cooperative.
"These kind of situations are difficult," Heaphy said. "People don't always see what initiates an event, but they'll see when it's in progress. We are trying to find out what ignited this thing."