Sac State lights up scoreboard in shootout victory over Southern Oregon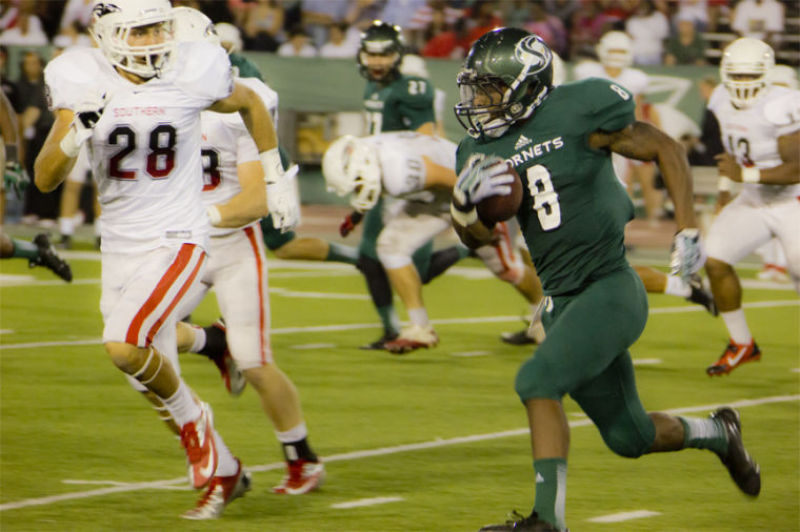 Sacramento State (1-2) opened its home schedule with a record-breaking victory over Southern Oregon (0-3) in an overtime thriller, 63-56.
The win was the Hornets' first of the season after dropping their previous two games on the road.
Junior quarterback Garrett Safron hit junior wide receiver DeAndre Carter with a game tying touchdown with one second left in the fourth quarter and the duo connected once again in overtime on a 14-yard pass to take the lead and eventually the game.
Safron set a school record with seven touchdowns and compiled 343 passing yards. He also hit 65 percent of his passes, which was a major upgrade from his 50 percent completion percentage coming into the game.
"Each play is a game in itself, so I was just taking it one play at a time," Safron said. "We knew that they blitzed a lot and that created a lot of matchups outside. I pretty much just fed the ball to my playmakers and let them do work."
Carter also set the school record with five touchdown grabs in a single game. He led all players with 12 receptions on 122 yards.
"I didn't come with that sole goal in mine [of beating the record]," Carter said. "But you know, glory to God, I did it for my little brother K.K."
The 639-yard output by the Hornets was the second most they have ever put up since moving into Div. I and the team tied the school record for most plays run in a game with 101.
Despite the offensive outburst, the Hornets turned the ball over after just one minute into the game on a fumble by Demetrius Warren.
After Southern Oregon scored  a touchdown pass from quarterback Austin Dodge, the Hornets quickly answered back with a 53-yard run by senior running back Ezekiel Graham on the following possession.
Lost in the shuffle was Graham, who ran for a career high 177-yards on 24 carries. He also contributed with one score of his own.
On the Hornets third possession, Safron threw his fifth interception of the season but the Raiders were unable to capitalize and were forced to punt.
From then on, it was a shootout between quarterbacks Dodge and Safron, combining for seven passing touchdowns in the first half with the Hornets ahead, 35-28.
Coming out of the half, Southern Oregon struck first with a 31-yard pass from Dodge to wide receiver Ryan Retzlaff to tie the game.
The Raiders controlled the third quarter outscoring, the Hornets 14-0 and led going into the fourth quarter, 42-35.
The Hornets would once again climb back on top after Safron tacked on two more touchdowns, one to senior wide reciever Morris Norrise and another to Carter.
However, the Hornets defense was not able to contain the Raiders as they struck on a 36-yard pass and a 59-yard run by running back Melvin Mason that resulted in touchdowns that gave them the 56-49 lead with 1:26 left in the game.
With time running down, head coach Marshall Sperbeck and Safron were able to rally the troops.
"I kept telling [Safron] to keep getting first downs one play at a time," Sperbeck said. " I told him to keep the drive alive and we'll be in good shape. He did a great job.
With four seconds left on the clock, Southern Oregon's Randy Tyler made contact with sophomore wide receiver Shane Harrison and the official called pass interference.
The penalty set up the six yard touchdown pass to Carter which tied the game and sent it to overtime.
Sperbeck credits the come-from-behind victory to Safron's ability to stay composed and remain focused in the waning moments.
The Hornets wasted no time scoring in the extra frame with a 11-yard touchdown pass from Safron to Carter.
"We were in the huddle and coach called the play and told me I got to win, I got to beat my guy, " Carter said. "Me and [Safron] have great chemistry, we have been working all summer, all offseason and it [was] just like practice."
On the Raiders only possession of overtime, the Hornets defense clamped down and forced a four and out that sealed the game.
Although the Hornets came away with a victory, Sperbeck recognizes that there are areas the team could work on.
"I think we beat ourselves, too many times, too many penalties," Sperbeck said. "There were too many times that we had opportunities to put them away and be successful but we stubbed our toe and made it easy for them."
Next Saturday, Sac State will face Southern Utah University in the last game before conference play starts. Kickoff is at 6:05 p.m.
Curtis can be reached on Twitter at @CTMhornetsports