San Jose State hands Sac State football its first shutout loss since 2007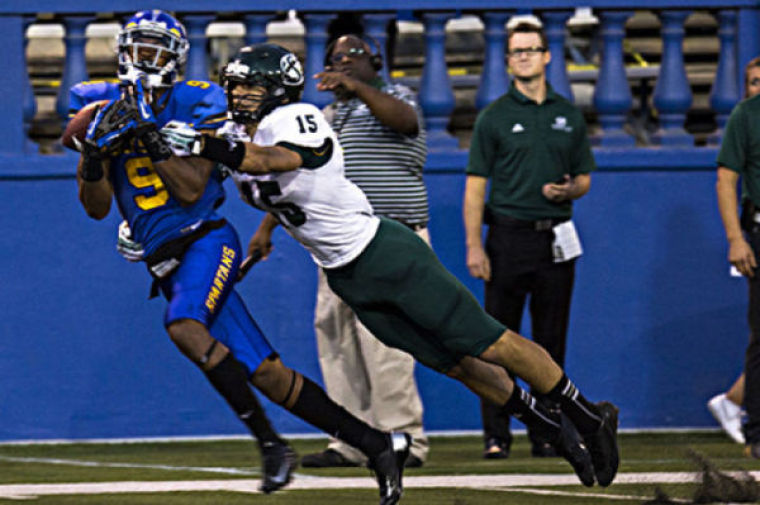 State Hornet Staff
August 30, 2013
SAN JOSE, Calif. – Sacramento State football started out the 2013 season with something it hasn't done in six years.
For the first time since 2007, the Hornets were shut out as they lost to San Jose State 24-0 in front of a crowd of 13,136 at Spartan Stadium.
It also marks the second straight season the Hornets started with a loss.
Head coach Marshall Sperbeck said he gives San Jose State credit for keeping his team out of the endzone.
"We had some tough moments, but our guys battled all the way through," Sperbeck said.
SJSU came into the game led by senior quarterback David Fales, who finished last season with the nation's best 71 percent completion percentage and 33 touchdown passes.
Despite Fales gaining some national attention, the Hornets kept him at only 225 yards passing with two touchdowns.
"I think (defensive coordinator Anthony) Parker called a good game and put us in good situations," Sperbeck said. "They understood what they needed to do to keep them in check."
Senior linebacker Todd Davis played his first game as the voice of the Hornets' defense and finished tied with Robbie Kendall, Darnell Sankey and Markell Williams with seven tackles.
"I felt good out there" Davis said. "It's my senior year and I couldn't ask for a greater position to be in."
After a quick field goal in the first quarter, The Spartans' first touchdown came in the first quarter when Fales sailed a 31-yard pass to wide receiver Chandler Jones with 12:43 remaining in the second quarter, giving the Spartans a 10-0 lead.  
SJSU's first 10 points all came off turnovers from quarterback Garrett Safron's two interceptions.
Safron finished the game passing 23-40 for 192 yards, but was unavailable for comment.
"In this type of game, you can't turn the ball over," Sperbeck said.
The Spartans extended the lead with 26 seconds before halftime when Fales found wide receiver Noel Grisby for his second touchdown pass.
The Hornets started to drive the ball in the second half, but failed to complete three fourth downs in the red zone to score. Overall, the Hornets finished missing two red zone scoring chances, a pair of missed field goals and were penalized eight times for 45 yards. Of the eight penalties, two were delay-of-game.
"I felt it was just miscommunication, " said senior running back Ezekiel Graham.
The Hornets continue their road trip to start the season next Thursday when they travel down to Tempe to face Arizona State. This will be the third consecutive year Sac State will face a Pac-12 opponent, with the last two seasons having upset Oregon State and Colorado.
Kickoff is at 7 p.m.
Ryan can be reached on Twitter at @rskuhn