Dedini unimpressed with players effort in season opener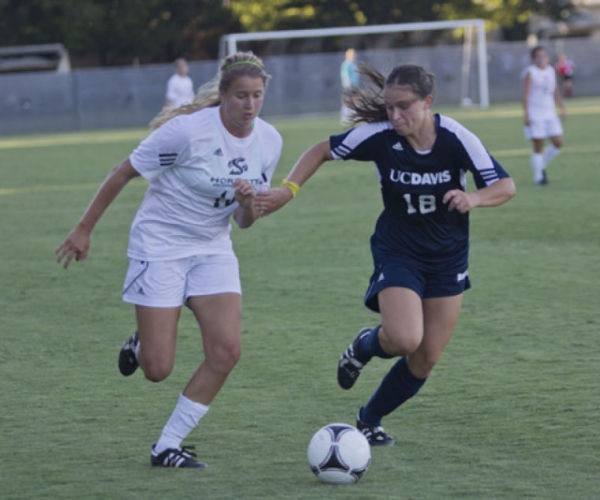 The Sacramento State women's soccer team was unable to seize an opportunity as it lost its season opener 1-0 to Causeway Cup rival UC Davis on Friday.
Sac State's junior goalkeeper Kimberly Mata and Aggie midfielder Andrea Damian collided at the end of the first half, resulting in Damian being launched up in the air and kicking Mata in the face.
The play resulted in a red card against the Aggies and an ejection for Damian.
Mata said she was a little out of it after the collision, which occurred as the buzzer sounded to end the first half.
"I didn't know what really was going on after I landed on the ground," Mata said. "As I came up I heard the ref gave the other player the red card. It made me happy because I felt like I took one for the team with the collision."
The Aggie's physical play continued throughout the game as they dominated the shot advantage and shots on goal 12-5 and 4-1.
Even with the extra player in the second half, the Hornets could not put any pressure on UC Davis.
"I have to give credit to UC Davis in how they adjusted to being a player down and the chances they still made with only two forwards," said Hornets head coach Randy Dedini.
Sac State was able to get its first shot on goal in the 18th minute of the first half, but sophomore forward Kassidy Kellogg's shot was blocked by the Aggie's junior goalkeeper, Taylor Jern.
The Hornets best chance to score came off a corner kick by sophomore forward Josie Jogwe in the 75th minute, but Jern was able to block it.
Sloppy ball handling and sailing passes out of bounds when no Aggie defenders were around limited any ball movement for the Hornets, which left them struggling to put pressure on the Aggie's defense.
"It was frustrating that we couldn't put anything together with the man advantage, but we will learn from it and run with it," said junior defender Kassi Anast. "This being the first game of the season our nerves really affected us today."
Dedini said he does not mind losing to a team that outplayed Sac State, but not when the Hornets beat themselves in the game.
"We came out and played really flat out there today," Dedini said. "We definitely did not play up to our potential."
Sac State will travel to Cal Poly to play against the Mustangs Friday Aug. 30 at 7 p.m.
Clifton Jones can be reached on twitter @SH_Sports