Hornets take a loss as Idaho State walks off in Big Sky Tournament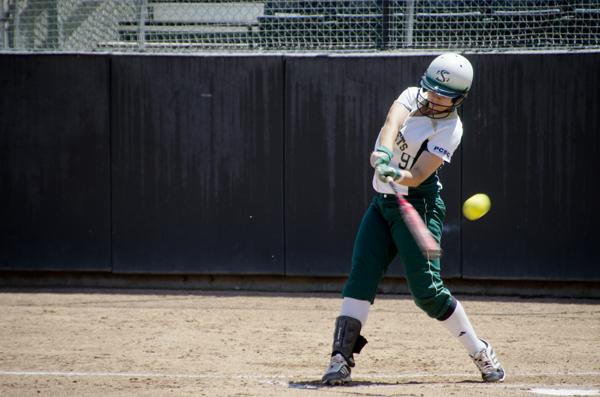 Sacramento State softball dropped its first Big Sky Tournament game in a heart breaking walk-off fashion, 10-9, to the Idaho State Bengals yesterday at Pocatello, Idaho. 
In what had become a heavy weigh battle of offenses, both teams combined for 29 hits, 19 runs.
Sac State was led by both senior third baseman Emily McCormick and sophomore left fielder Alexa Chattleton. 
The Hornets started sophomore pitcher Caitlin Brooks for her first career playoff game.
Brooks pitched four innings allowing six earned runs on six hits, while walking five Bengal batters. Junior Taylor Stroud pitched the remainder 3.1 innings giving up four runs on seven hits, walking one and striking out one Bengal batter. 
The first lead change came in the third inning, when Chattleton led off the inning with a solo home run. The Hornets scored its second run when freshman shortstop Alyssa Vanderdrink doubled in senior center fielder Kelli Frye. 
Chattleton's home run was her first of the season and finished the day 2-4 with the home run, a triple and 3 RBIs. 
However, the Bengals responded in the fourth inning with four home runs that scored six runs. 
After the 90 minute rain delay in the fifth inning, Sac State battled back from a five run deficit scoring two runs in the sixth inning and tied up the game in the seventh inning with a three-run home run from McCormick. 
"It was perfect timing for us because we were able to come out with hits and move base runners around after the rain delay," McCormick said. 
McCormick's home run was her second of this season and said it was nice to come away from the rain delay to battle back and tie up the game. 
Sac State would score two more in the eighth inning after the Bengals walked two Hornet batters and both scored when freshman first baseman T.J. Watts doubled. 
"It was a team effort today in that we all contributed with the defense and our hitting," McCormick said. "We were able to keep pushing runners and scoring runs like we have done all season." 
Sac State's chance to upset the Bengals faded away as Idaho State freshman Maddy Hickman's two-run double tied up the game 9-9.The Bengals won the game one batter later when sophomore shortstop Hailey Breakwell's walk-off single scored the game winning run. 
McCormick said the lights not coming on until the bottom half of the eighth inning could have been a factor in why the Hornets lost the game. 
"It was tough playing in the dark, but both teams had difficulties in dealing with the lights not being on," McCormick said.
With Sac State in a win-or-go-home situation, McCormick is optimistic with the Hornets chances tomorrow against their next opponent, Southern Utah. 
"We need to keep doing what we did today against Southern Utah and if we do that we should have a chance to win the game," McCormick said. 
Sac State will face Southern Utah in its elimination game at noon today.
Clifton can be reached on Twitter at @jonesSHsports