An easy strawberry pie to make at home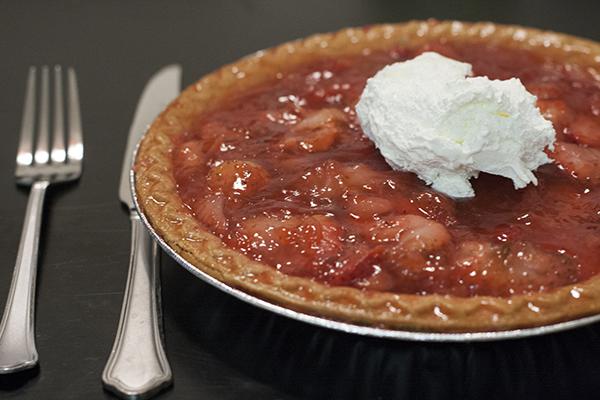 Strawberries are what kept me entertained as a child. on disgustingly hot summer days in my hometown of Redding, Calif., I can remember wanting nothing more than to sit in front of the TV – with a high-powered fan blowing in my face – and watch ZooM while popping whole strawberries in my mouth, one after another, as their red juices slowly made their way down my chubby little face.
As an adult – although always tempted – I refrain from devouring boxes of strawberries at a time anymore. It isn't because I am afraid of gaining a ton of weight in strawberries or anything, but I have found they are much more enjoyable when eaten mindfully – in moderation – and in things like… pie.
There's always been a hype on blueberry pie and rhubarb pie and apple pie, but what about strawberry pie? People tend to forget strawberries can be just as delicious piled into a flaky pastry crust as they are piled on top of a mound of angel food cake. Besides, who wants to spend a bajillion hours foaming a trillion eggs for a cake that is only going to last 30 minutes? Take the better – and wee bit lazier – route and make this strawberry pie instead; your sugar craving body will love you.
Ridiculously easy strawberry pie
1 (9 inch) pie crust, baked
1 quart fresh strawberries, sliced 1 cup white sugar
1 teaspoon cardamom (optional) 3 tablespoons cornstarch
3/4 cup water
1/2 cup Cool Whip (optional)
All of the ingredients above can be found at any 99 Cent Store – yes, even the fresh strawberries – and can last you through several pies if you buy enough pie crusts.
Bake pie crust according to package directions. While the crust is baking, combine cornstarch and water in a small bowl; this mixture will be what gelatinizes the strawberry filling for your pie. Set aside.
When the pie crust is baked and cooled, evenly distribute half of the quart of fresh, sliced strawberries into it. Smash up the remaining half-quart of berries with a potato masher or fork – until extremely mushy – and combine with sugar in a medium-sized saucepan. Place the saucepan over medium heat and bring to a boil, stirring frequently to be sure the strawberry sauce does not burn. Sprinkle in the cardamom and stir.
You might think cardamom is an odd spice choice for pie filling, but it's actually quite brilliant. Cardamom extracts the flavors of the strawberries in the filling, while adding a bit of Indian flare with it's spicy-sweet, aromatic essence. According to tablefare.com, it is known as "the queen of spices" because of its euphoric smell and wonderfully profound flavors that "incorporate camphor, lemon, mint, pepper and floral notes."
In a small bowl, whisk together cornstarch and water. Gradually stir cornstarch mixture into boiling strawberry mixture. reduce heat and simmer mixture until thickened, about 10 minutes, stirring constantly. The mixture should be a darker pink color and have a thick, gooey consistency.
Pour hot mixture over fresh berries in pastry shell. Chill in the refrigerator for several hours before eating.
Serve with a dollop of Cool Whip on top and eat the entire thing while watching ZooM (if you dare); you will probably hate me when you're done, but it will be totally worth it.
Janice Daniels can be reached at [email protected]