13-straight save streak ended as McLoughlin cannot shut down SJSU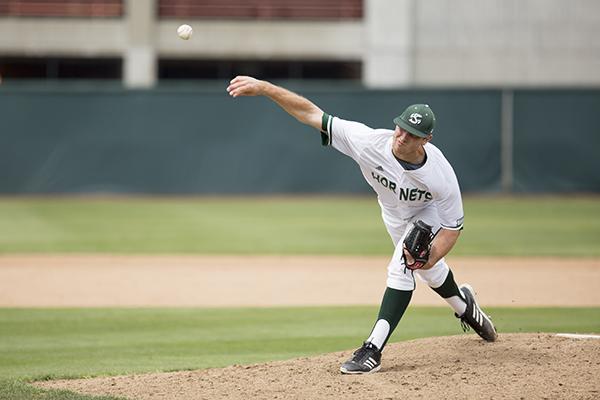 State Hornet Staff
May 12, 2013
Time after time, Sacramento State's bullpen has closed out games in the late innings, but Saturday against San Jose State was another story.
The pitching combination of senior Brandon Creel and freshman closer Sutter McLoughlin gave up five runs in three innings to see a once three-run lead transform into an 8-6 loss.
Coming into the game, McLoughlin converted 13 consecutive saves before giving up three runs in the top of the ninth.
"I didn't feel 100 percent today and I felt like the velocity of my pitches was down a little bit," McLoughlin said. "I just didn't have my command today."
The Hornets had a chance to move into a tie for second place in the Western Athletic Conference, but this loss has dropped them down to fourth behind CSU Bakersfield, UT Arlington and Texas State. 
Sac State head coach Reggie Christiansen said these games happen. 
"We made too many mistakes that didn't show up in the box score," Christiansen said. "Sutter and Brandon have been lights out all year and they are not going to be perfect, but we certainly didn't do our part of playing defense at the level we should play."
The only error the Hornets made in the game scored a San Jose State run in the third inning when freshman Chris Lewis made a diving catch but then threw the ball away to catch the base runner at first.
For the past week, Lewis has replaced sophomore Rhys Hoskins at first base due to a sprained ankle he suffered last Sunday against Seattle, but Christiansen said he is optimistic that Hoskins will be back in the lineup just in time for the WAC Tournament. 
Lewis' move from the designated hitter position to first base has also given sophomore Kyle Moses a chance to receive some playing time. In the 14 games he has played, he has batted .345 with two doubles, a triple and a pair of RBIs.
"Kyle is a very good player, but he was behind some guys who were playing a little bit better early and was not given the opportunity," Christiansen said. "He's done a very good job."
San Jose State got on the board with a run in the first inning, but the Hornets responded with a pair in the bottom half of the inning. 
After giving up a pair of runs in the third inning, freshman outfielder Nathan Lukes doubled in Moses and David Del Grande. In the sixth inning, Sac State extended their lead to three runs with RBIs by Lewis and Andrew Ayers.
Despite getting a no decision after the bullpen gave up the lead, sophomore pitcher Ty Nichols only gave up three earned runs in six innings pitched.
Sac State returns to John Smith Field today at noon when Tanner Mendonca takes the mound. This season he is 2-4 with a 5.13 ERA.
Ryan can be reached on twitter at @rskuhn