Women's tennis wins 12th straight Big Sky title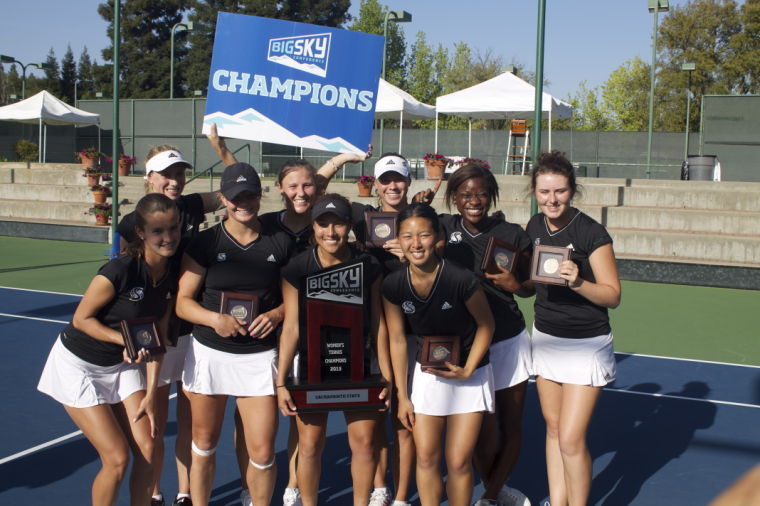 The No. 1 seed Sacramento State's women's tennis team battled late into the afternoon Sunday to win its 12th consecutive Big Sky Conference tournament title over the No. 2 seed University of Montana at the Gold River Racquet Club. 
With the 4-1 victory, the Hornets showed why they are among the best in conference by extending their unprecedented winning streak over conference opponents to 105 games.   
"It feels really good," said senior captain Rebeca Delgado. "To be honest, I think we all have been looking forward to the Big Sky Conference tournament championship. I am really happy we won."
Delgado managed to win first both the singles and doubles points for the Hornets. 
Hornet sophomore Andrea Gomez Carus' victory over the Grizzlies' Ashley Mackey at the No. 6 spot gave the Hornets the last point they needed to secure the conference title. 
From the beginning to end, Montana applied as much pressure as they could, but it wasn't enough to overthrow the 12-time champions. 
The Grizzlies' solo point came when Sasha Carter defeated Hornet freshman Olivia Boija in her first-ever championship match. 
Delgado said being the team everybody wants to beat means a give-and-take type of relationship. 
"In one way I think we all fill a little bit of pressure," Delgado said. "But on the other side, it also helps us to show them why we are the best. I always try to cheer for the girls. It is something that motivates us to work even harder."
Delgado finished her career at Sac State with four consecutive titles. 
"Montana, they're a tough team," Delgado said. "They're all very good and deserved to be in the finals."
Freshman Jennifer Nguyen also came out victorious in both singles and doubles play at the No. 2 spot. 
Both Hornet juniors Sophie Lohscheidt and Katharina Knoebl recovered from their first set singles losses to win in the second set before play was halted due to Carus' match clinching point. 
The Hornets will return to the courts on May 10 to compete in the NCAA tournament and will find out later this week who they will face. 
Gabe can be reached on Twitter at @sh_sports