Wife, gymnast and student Cayla Beutler moves from family farm to compete at Sacramento State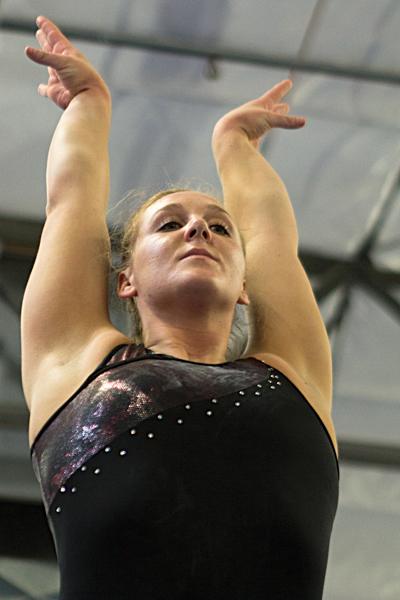 Sacramento State senior gymnast Cayla Beutler grew up helping her father on her family's farm in Idaho and she has made the transition to city-living, when she moved to Sacramento four years ago.
Beutler has learned a lot of life lessons just by watching and spending time with her dad on the family farm.
"Growing up on a farm has really showed me what hard work really is," Beutler said. "It helped me to see how tough the world is."
Gymnastics had its benefits for Beutler when she grew up on the family farm.
"Gymnastics was able to get me out of a lot of the farm work," Beutler said. "My sisters would be the ones waking up before I did to help my dad with the farm."
Beutler said when she was in high school she made sure she had time to help her dad by milking the cows with him.
"I did it because I wanted to spend more time with my dad," Beutler said.
Beutler's toughness is one of the many things she has learned on the farm because she was raised to be tough.
Beutler is the third of six daughters, all raised by her mother and father.
"My dad wanted boys, but instead he got six girls and he just taught us to roll with the punches the world gives us," Beutler said.
One of the many life lessons Cayla has learned is to be resilient in everything she does.                                                                                       
Women's gymnastics head coach Kim Hughes said he was not really interested in recruiting Cayla out of high school until he got to see her at the Junior Olympic Nationals meet.
"When I saw her at the JO Nationals I was really impressed with her positive attitude," Hughes said. "Cayla is the kind of person I try to recruit here."
Beutler said one of the challenges of being a gymnast and wife is spending time with her significant other just as much as with her teammates.
"My husband expects my free time to be with him which he should because we are married," Beutler said. "But it leaves time without being with my team – which makes it hard for me to be close with the team."
Beutler manages herself more than her teammates in that she tries to balance her school work, gymnastics practice and a married life. Beutler said being married has its challenges but is grateful for the married life.
"Being married has been really helpful for me because my husband has really helped doing stuff around the house for me before I come home," Beutler said. "He would do my laundry and cook me a dinner, which is something I would have trouble doing before I was married to him."
Cayla's husband Carl Beutler said that it's hard to find something to do when his wife is with the team or at school. But he does it because he supports her in everything she does.
Carl Beutler said he was drawn to Cayla when he first met her at their church.
"I love that Cayla has always had a positive personality. It doesn't matter how bad or good her day has been," Carl Beutler said. "She never really changes her mood."
Although there is a two-and-half year difference between husband and wife there was always a connection between the two of them.
"We actually met in the church (Church of Jesus Christ of LDS) when he got up and spoke in church," Beutler said. "I nudged a girl next to me and said, 'dibs on Carl,' and it didn't take too long after that until I got him."
Cayla said it has been hard to be close with her team after Beutler married her husband. Beutler vented to her father, Rodney Boyce, about her frustration with her team early in her marriage.
"She did tell me that when she was first married, the team would be distant from her because they are not used to having a married teammate," Boyce said. "But after a while her teammates seemed to be more welcoming of Cayla's personal life."
Hughes said that one of the best qualities Beutler brings to the team is her leadership by example.
"She is always upbeat and positive in practice or in the weight room," Hughes said. "She is really daring and is not afraid to try a new thing which is another inspiration to her teammates."
Hughes said Beutler is also one of the top student-athletes on the gymnastics team.
Beutler's ability to live with six sisters has translated well with her teammates in how close she is with them.
"I think her childhood has a lot to show for the way she is with her teammates by being like a big sister to many of them," Hughes said.
Beutler has taken the challenge of being a wife and a gymnast. She has embraced it with the help of her husband and teammates.
Clifton can be reached o Twitter at @jonesSHsports