Make The Whole Sha-bang in your kitchen tonight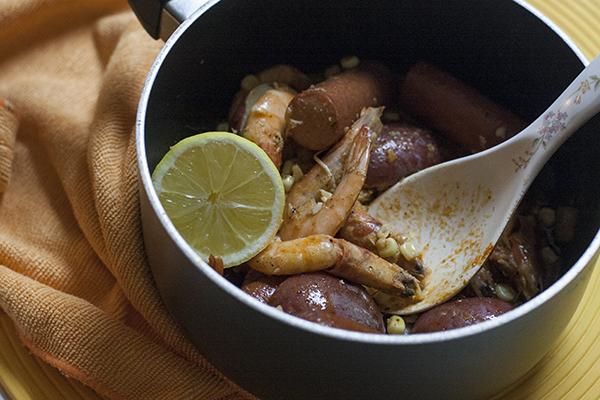 Anyone who's been to The Boiling Crab in south Sacramento knows the best way to satisfy a craving for Cajun seafood is to order The Whole Sha-bang, a bag of seafood doused in a combination of the restaurant's lemon butter, garlic and spicy sauce.
The Whole Sha-bang is a great dish to share with friends and family because there's nothing more relaxed than sitting around, peeling tender seafood and eating with your hands.
Also, as a Filipino person, eating with your hands is a typical skill to have and there's something about it that ties me back to my culture; It's a fun thing to do with friends and family and could be one of those memories you will share with them forever.
Unfortunately, The Boiling Crab is a good half-hour away and the wait time for a table is always insanely long.
In the time that it would take to wait for a table, you can make The Whole Sha-bang in the comfort of your own home without having to deal with a huge crowd.
The Whole Sha-bang
Serves 1 to 2 people, but more than likely will draw in a crowd of 5.
½ pound of shrimp
1 stick of butter
1 cup of corn
2 large Polish sausages
2 small red potatoes
For the sauce:
½ cup of onion, diced
3 tablespoons of garlic
Juice from half a lemon
1 teaspoon of Cajun seasoning
1 teaspoon of oregano
1 teaspoon of thyme
1 teaspoon of salt
1 teaspoon of pepper
1 teaspoon of garlic powder
1 teaspoon of cayenne (or more if you want your sauce to burn your mouth like lava)
½ cup of water
Take the potatoes and rinse off any dirt. Before nuking them in the microwave for five minutes – or however long the bake potato button takes – stab them 12 times to cook the potato all the way. Stabbing the potatoes is ideal because it allows it to release moisture and prevents it from exploding. No one likes raw, crunchy potatoes or a potato turning into a grenade in the microwave.
Slice the sausages in half and add to a pot of boiling water to cook for 10 minutes. Any kind of sausage, like andouille or Italian sausage, can be used for The Whole Sha-bang. Kirkland Polish sausage, which I used, also goes great with this dish.
Clean the shrimp. Make sure to cut all the legs and sharp parts off the shell. The shell and head can be left on, but the dish can be made without them.
Melt the butter in a pan over medium-high heat. Once the butter is melted, saute 1 ½ tablespoon of garlic for five minutes. Once the garlic flavors the butter, add the diced onions to the pan and cook until they are translucent.
Throw all the spices and the lemon juice into the butter mix. Let the spices and the butter marry together in aromatic harmony for five minutes. After the sauce thickens, add water.
Since shrimp takes about 10 minutes to cook, it should be the last thing added to the pot and this will allow the shrimp to have that firm and tender texture. Make sure to mix the shrimp into the sauce until each piece is thoroughly coated. After 10 minutes, turn the heat off and mix in corn, steamed potatoes and Polish sausages. The heat of these warm ingredients will continue to keep everything nice and toasty.
The Whole Sha-bang can be enjoyed with more lemon juice spritzed on top and a bowl of jasmine rice, which beautifully complements the dish's garlic-filled, zesty sauce.
If you want the entire Boiling Crab experience, serve in a plastic bag and have lots of paper towels on hand.
Most importantly, enjoy eating with your hands and don't wear white because nothing says "I ate a bagful of delicious shrimp awhile ago" like a permanent red stain on your shirt.
Camille Anglo can be reached at [email protected]