Bicycle bandits keep bagging up bikes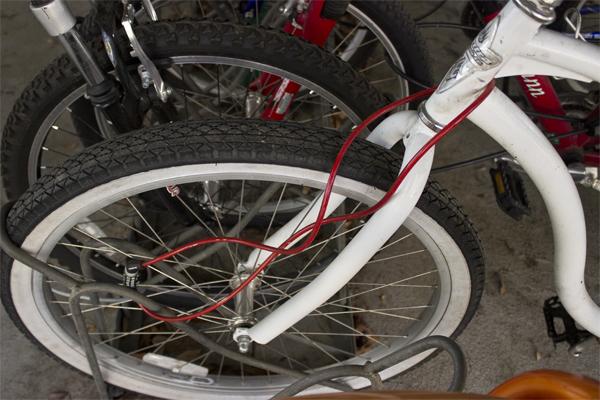 They can be seen of all designs and colors, zipping in and out of the small gaps in between hordes of students clustered together. Others ride more slowly, carefully avoiding students on their way to class.
Bikes are a common sighting at Sacramento State, but many are stolen each year. Of the 40 reported thefts that have occurred so far this year, 20 of these cases involved either a bike or bike tires, according to the police media log.
"I think a lot of people believe just a cursory lock and cable is going to protect their bike because it creates a nuisance for the thief," said Sac State Chief of Police Mark Iwasa. "But thieves come in here with bolt cutters and (with) those thin, spaghetti type cables, (the cutters) go through those as if they're string."
Iwasa, who has been Sac State's chief of police since January 2012, said theft is "by far (Sac State's) most prevalent crime problem." In most situations, the case is closed unless workable information can be provided.
Approximately 20 larcenies occur each month, with bikes, laptops and phones among the highest items stolen. While the number fluctuates depending on the time of year, Iwasa said students could avoid theft if they were more aware of their surroundings and property.
"These thefts are most often related to unattended property," Iwasa said. "People will leave a cell phone on a desk. They'll leave a purse out (or) an unlocked bike many times. They're crimes of opportunity."
Several Sac State students were able to recover stolen possessions by initially registering items.
Junior business major Jacob Belisle had his bike, an heirloom from his deceased uncle, taken over a weekend after leaving it locked up with a cable wire and a padlock. The theft report was filed with campus police, and a week later, he received a call from the UC Irvine police department, saying that his bike was found.
"I was surprised," Belisle said. "I know people steal bikes and stuff like that, but I don't have that nice of a bike and I was just shocked they took the time. Whoever did it cut (the lock) clean."
Iwasa said registration allows the police department to run serialized information through its system in the event they encounter a questionable individual.
The department is also trying to make it easier to register bikes by developing an iPad application for registration that can be completed at the bike compound across Riverside Hall and University Union.
"Without it being registered, we have no way to tell whether (a bike) was stolen or not," Iwasa said. "With it being registered, we can take the serial number or registration sticker and run it to see who it belongs to. I can think of several cases where that would have resolved the case."
Registration was the first thing freshman kinesiology major Julian Adair looked to complete after recovering his longboard.
Adair said he left his longboard near Desmond Hall in February. Instead of the board being returned to lost and found, he met and confronted the person who took it inside his communication studies class. The person refused to return the longboard, but Adair got it back when one of his friends saw it in a market and took it back, Adair said.
"I was so angry," Adair said. "I was livid when I realized it was stolen and not lost. When I saw somebody else with it, I was so mad. It threw off my whole speech."
While bikes have the highest theft numbers on campus, Iwasa said the quality of the lock and device used to secure the bike can be a big deterrent.
Junior undeclared major Monica Ngou said she learned to use a better lock after the wire lock she used was cut while living in the dorms her freshman year.
"This sucks," Ngou said. "And they left the lock there too. It was a really expensive bike and my mother was mad."
Iwasa said 216 thefts occurred in 2012 and the police department will not be happy until there are zero.
"You go to a campus," Iwasa said. "You would hope that everybody is here to learn and be honest. It's not always the case."