The Oscars use song and dance to mediocre success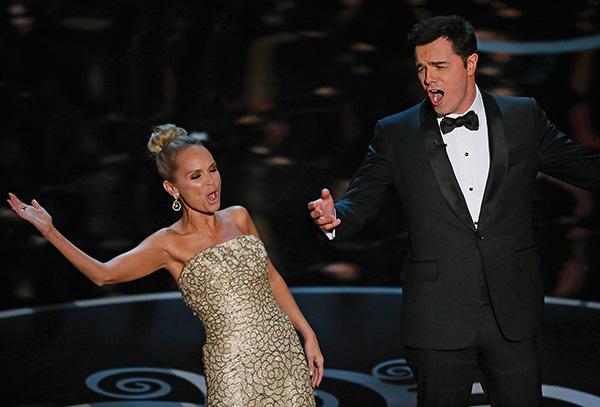 During the opening monologue of the 85th annual Academy Awards, host Seth MacFarlane said the theme for the night was music in film.
Boy, he wasn't kidding.
The three and a half hour long ceremony was saturated with musical performances both from films and from MacFarlane. We heard the always classy Adele sing her "Skyfall" theme for the first time live and the always crass MacFarlane sing a song about actresses called, "We saw your Boobs."
Known for his cherubic looks and devilish humor, MacFarlane managed some laughs. He made a few jabs at nominees, saying he confused Ben Affleck in "Argo" for a Kardashian and then ripped on himself, saying the only reason he got the hosting job was because "everyone else said no."
But between all of the choreographed show tunes, it seemed out of place. Perhaps MacFarlane would have been better suited to host the Tony awards.
The music theme would have felt relevant, at least, if they would have stuck to films that were released this year. Watching Jennifer Hudson and Catherine Zeta-Jones perform songs from films previously nominated seemed just as puzzling as seeing Best Supporting Actor nominee Tommy Lee Jones smile during an awards ceremony.
There were so many unnecessary musical performances, I half-expected the cast of "The Hunger Games" to perform a scene from the film to the tune of Blue Oyster Cult's "Don't Fear the Reaper," but that might have been entertaining.
During intermission of songs being performed, there were actually awards handed out. Daniel Day-Lewis took home his third Oscar for "Lincoln" in the Leading actor category. Christoph Waltz took home his second Oscar for "Django Unchained." Anne Hathaway won Best supporting actress for "Les Misérables," and Jennifer Lawrence won for best actress for "Silver Linings Playbook."
Personally, I would have liked to see Jessica Chastain ("Zero Dark Thirty") or Quvenzhane Wallis ("Beasts of the Southern Wild") win, but Lawrence is just so gosh-darn lovable, I didn't mind.
And once again, Disney proved it has a monopoly on the Best Animated Film category, with its victory win for "Brave," another first. It's the first Disney – Pixar film to have a female protagonist, but unfortunately didn't seem up to par with the studio's previous animated films. I wanted to see either "ParaNorman" or "Frankenweenie" win, both of which seemed more lively films than "Brave."
The big award went to "Argo," winning three out of the seven categories it was nominated in, including Best Picture, Best Adapted Screenplay and Best Film Editing. The other favorite was "Life of Pi," taking home four Oscars, including Best Director for Ang Lee, Best Original Score, Best Achievement in Visual Effects and Best Achievement in Cinematography.
It was upsetting to see "Life of Pi" win for the visual effects category, knowing it was up against the visually mind blowing "Prometheus." And if you're not upset, you must not have had the pleasure to experience the "Alien" prequel in IMAX.
Overall, the ceremony this year seemed prolonged and too flashy. Just like in "Les Misérables," every moment was milked for a tune, making this ceremony less about the films and more about the music in them.
If only the orchestra could have played the "Jaws" theme during some of the musical performances to wrap things up – that would have been music to my ears.