Sac State teaching credential program sees large number of graduates become coaches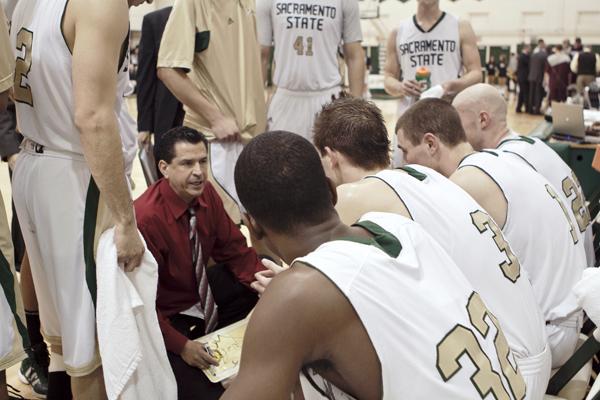 Greatness does not always have to be an innate quality. In the right environment, greatness is a trait that can be learned.
Top-notch coaches and athletes can oftentimes be traced back to a particular lineage. In the NFL, former 49ers head coach Bill Walsh's coaching tree includes Mike Holmgren, Mike Shanahan and George Seifert, who all went on to win the Super Bowl after learning from Walsh while serving on his coaching staff.
At Sacramento State, the coaching branches do not necessarily extend from the Hornets' basketball team as much as they do from the teaching credential program.
There have been many members of the Sac State teaching credential program who have gone on to become coaches on the various levels of basketball in and around the Sacramento community.
The current Sac State men's basketball head coach Brian Katz is a product of the teaching credential program. Katz finished the teaching credential program with a bachelor's in English in 1980 before breaking into coaching. Katz coached at Sylvan Middle School, Casa Roble High School and Center High School before eventually taking the job in 2008 at Sac State.
Katz has his Sac State team off to one of its best starts in school history this season. He credits much of his coaching success to the foundation set by the teaching credential program.
"The program is very process-oriented," Katz said. "There is a process the program instills which allows you to teach students and coach players. Everything is very systematic, very diligent and very disciplined."
Katz said the teaching credential program taught him how to be a leader. He said the program defines teachers, just like coaches, as leaders.
Katz said he believes when principals and athletic directors of Sacramento areas schools are looking to fill coaching positions, the teaching credential program is the first place they consider.
"Look at the record with regard to the program and coaches (in Sacramento)," Katz said. "I think the reputation speaks for itself."
Ron McKenna graduated from Sac State in 1958. He started out majoring in social science and eventually was accepted into the teaching credential program. Upon his acceptance, McKenna added what was at the time known as a physical education degree.
McKenna has held 11 different basketball coaching positions at eight Sacramento area schools including time as an assistant at Sac State until 2002. McKenna most recently served as an assistant at Sheldon High School until this season.
"As a student I was motivated to go on (to coach)," McKenna said. "The program gave me the support to complete the things I was attempting to do."
McKenna acknowledges the program has changed as education systems have changed. If the outcome of classes past is any indication, the program is working in producing leaders of yesterday, today and tomorrow.
McKenna said "(The members of the program) were afforded opportunities to live our dreams and go on to become great teachers and coaches."
Joe Davis can be reached on twitter @famousjoe530.