Student Fashion Association brought fashion to the future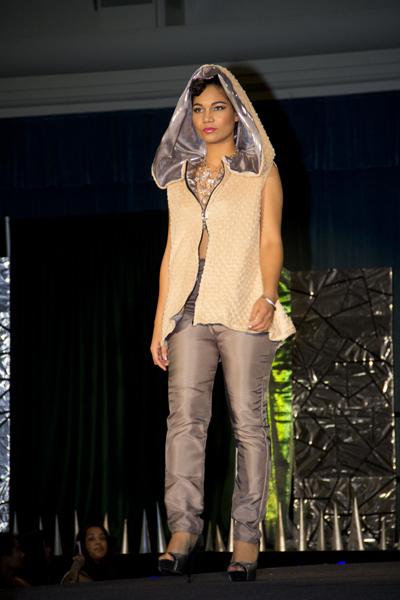 Sacramento State's Student Fashion Association transported attendees to the future by way of the Design Charity Fashion Show at the University Ballroom on Saturday.
The Future by Design Charity Fashion Show featured student designers from many schools such as Sac State, American River College and San Joaquin Delta College. All designers showcased creations beyond our time.
The fashion show contributed to charities such as the nonprofit organization My Sister's House, which provides help for women and children domestic violence victims in the Asian and Pacific Islander community. The show also contributed to the Volunteer Center of Sacramento, an organization that gives a brighter future for the youth in the Sacramento area.
Blue lights lit the runway while silver cones and panels served as decor on both sides of it where two flowers resembled galactic stars.
Silver jewelry, metallic fabric, rhinestones, sequins and glitter adorned the clothing that was reminiscent of the futuristic and space-age style of movies such as "Men in Black" and "Star Wars."
Apparel marketing and design senior and president of the Student Fashion Association, Nai Saeteurn, said the futuristic theme for the fashion show was a collaboration of ideas from the club's members.
"Last semester we went retro so we (agreed) – let's do the opposite; let's go into the future," Saeteurn said. "We decided upon that and thought it would be interesting."
Futuristic films influenced the theme, said Saeteurn.
"I was thinking about the 'Men in Black' theme, and 'Total Recall,'" Saeteurn said. "I was just thinking aliens – kind of extraterrestrial. It was a great idea."
Each semester, the Student Fashion Association chooses charities to support whenever they host a fashion show.
"We like to collaborate with the community and with charities," Saeteurn said. "This semester we chose My Sister's House and the Volunteer Center of Sacramento. It's a charity fundraiser so a portion of our proceeds will go toward charity."
There were seven student designers and each had two to three months to work on their designs after their application to participate was approved said Saeteurn.
Kyle Gajeton is a fashion design and merchandising major at San Joaquin Delta College in Stockton. Gajeton said he became involved at the Future by Design Fashion Show at Sac State because he contacted the Student Fashion Association to see if designers from other colleges could be part of the show.
Gajeton said he submitted a design application and was approved. Gajeton created nine futuristic designs for his collection that were inspired by what the future may have in store for us.
"My collection was just inspired by the future – looking up to the stars and knowing we're all a part of a larger universe," Gajeton said. "This collection is just my way of deciphering the future and what's in store for us."
Gajeton's collection included silver chains, earrings, and purple, grey and metallic fabrics. The models wore Gajeton's designs that showed his inspiration. The purple skirts and dresses looked like the night sky and the touch of metallic fabric and jewelry gave the illusion of stars.
The models' makeup was bold with silver eyeshadow, black eyeliner and magenta lipstick. Their hair was styled in a slick bun that resembled Queen Padmé Amidala from "Star Wars."
Kathy Vang's collection consisted of dresses in gemstone colors such as ruby red, emerald, silver and purple. The dresses were long and had detailed necklines with sequins, and the models' hair were curly with a front-side braid similar to Padmé Amidala in "Star Wars: Episode II."
The Article Consignment Boutique also showcased its own designs, which included blazers for men and women, long sequined dresses, leggings with rhinestones and a shoulder dress with puffy sleeves. The models wore blue glitter lipstick, white eyeshadow on their eyes, temples and nose bridge and some had their hair styled in a bouffant ponytail or in a bun.
During the intermission, audience members volunteered to strut and pose for a runway competition. The person who received the loudest applause would win any prize they chose, such as a T-shirt from a local boutique, a Student Fashion Association gift bag or a gift card for a free massage.
Not all the designs were about the future, but were a mixture of the past and present.
Designer Lacey Taylor created designs inspired by the 1950s and her clothing line-up began after a 1950s jazz rhythm played. Taylor's designs included long skirts, full skirts, pencil skirts, pearl necklaces, blouses with the Peter Pan collar, and colorful and floral fabrics. The models wore black eyeliner and red lipstick as their makeup, and some had their hair in curls.
Nutrition and food senior Nga Phan said she liked the different styles from each designer.
"I thought it was…great. Each of them has a different theme to it (and) in the way they used the colors and put it together," Phan said. "I really liked Kathy Vang's (collection); I really liked how she (combined) jewelry with it."
Social work senior Lucy Thao said it was her first time attending a fashion show and she said she liked every designers' fashion.
"I like how they put it together in different ways including the hair styles, the shoes, the music (and) the makeup," Thao said.
Thao said one of her friends was modeling in the fashion show and she said she would like to attend more fashion shows.
Communications studies senior and public relations director of the Student Fashion Association, Anete Millers, said the futuristic theme helped the Student Fashion Association step up from their previous shows.
"I feel like we actually stepped it up because when we were brainstorming for the fashion show, we thought of a futuristic theme but as ideas kept coming, the themes just kept expanding," Millers said. "We came up with turning vintage into modern and turning planetary colors into clothing. I loved that everyone enjoyed it and I was really happy to see the community come out to support us."
Leticia Lopez can be reached at [email protected]