'Habitable Cubes' displays interior design students' talents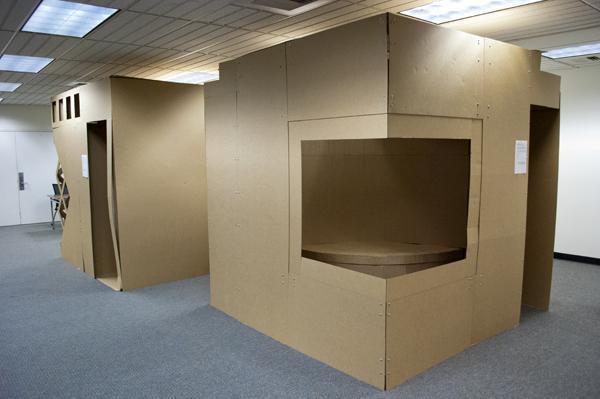 Sacramento State beginning interior design students exhibit their creativity and group project skills with Habitable Cubes, a collection of nine 8-foot cubes built solely from corrugated cardboard and fasteners, in the Sacramento State Library.
The cubes, which were constructed by students for an interior design class, will be on display until Monday.
Design Fundamentals, the class that built the cubes, is the first in a series of five design studios interior architecture students take at Sac State.
Interior design professor Andrew Anker said Habitable Cubes is one of two major projects in the introductory class.
"They are really beginning students," Anker said. "A lot of them haven't built anything before."
The project was broken down into three stages which spanned a total of six weeks all together.
The first stage, each student works on his or her own miniature cube.
"They each make a box of cardboard design that is 8 inches (tall) by 8 inches (wide) by 8 inches (long)," said Anker. "They work on that for about two weeks."
The next step challenges the students' group communication skills.
"They gather into groups of four or five and then they work together and develop a new design that is sometimes a kind of merger of the four of five different ones," Anker said.
Interior design sophomore Ashley Gonzalez said the group had to combine their ideas into the actual cube.
"We took aspects of everyone's design and tried to incorporate it to the big one," Gonzalez said.
Interior design sophomore Elaine Medeiros said it wasn't all smooth sailing because communication with group members was tricky.
"When you have an idea in your head, especially with five different designers and trying to communicate to four other people what you are thinking and how you want it to look is hard," Medeiros said.
Gonzalez said drawing rather than speaking about their ideas worked better.
"We all had to draw our ideas because we couldn't communicate them verbally," Gonzalez said.
The last two and a half weeks is when the actual construction of the full sized cubes all came together.
"One of the big things is that when they are working as a team, not only do they have to come up with a design that all four or five of them feel that they are part of, but also they figure out that when you go from 8 inches to 8 feet certain things don't work," Anker said.
The actual conversion from the miniature model to the full-sized display presented a couple of problems for the groups with materials and workspace.
"The cardboard itself; I didn't believe it was going to be so flimsy," Gonzalez said. "It was a lot more challenging."
Interior design sophomore Desiree Bonner said they used more materials for the actual cube because it was bigger and needed to be more stable.
"We added a lot of extra things for the structure of it that we didn't need for the little model," Bonner said.
Interior design sophomore Koy Saechin said materials used included nails, bolts, metal hinges and even shish kabob skewers.
"We used shish kabob skewers to put inside the corrugation of the cardboard to make it (sturdier)," Saechin said.
Most of the construction occurred in El Dorado Hall and then the cubes were then taken apart and moved to the library.
"The worst part for me was trying to figure out what I could do," Bonner said.
"Our workplaces are so small and these pieces of cardboard are so big-you don't want to get into other peoples ways."
Gonzalez said the amount of hours put in the project was long and all the students worked on the project every day for 11 days.
Medeiros said students spent six hours a day working on the cubes.
Although the project was a bit of a time investment, the results were worth it in the end.
"We got an A plus!" Saechin said.
As for what happens to their particular cube after the exhibition ends, Bonner said she wants to dispose of it, but her dad has a different idea.
"It goes in the dumpster," Bonner said. "My dad is trying to salvage it, he's like no that's your guys first project – I'm not letting your throw it away."
William Miles can be reached at [email protected]