Football drops to No. 3 Montana State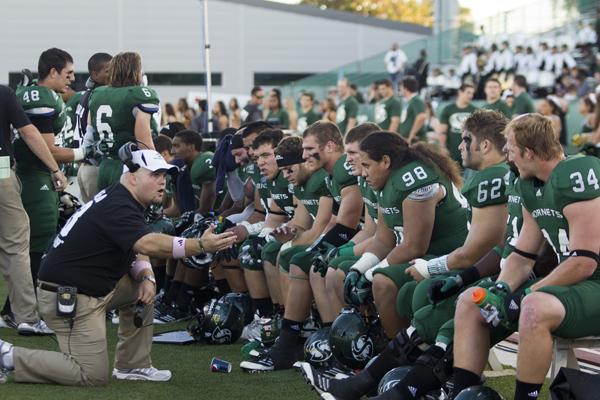 With high expectations come big letdowns, a lesson the Sacramento State Hornets learned today in a Big Sky Conference loss to No. 3 Montana State University.
The Hornets had been riding an emotional upswing coming off a 35-29 win over then No. 11 Cal Poly, but a crushing 20-17 loss to Montana State brought the team back down to earth.
Montana State came into the game with the Big Sky's best scoring offense and the top rated defense.
"I thought our defense did great at holding one of the top offenses in the country to 20 points," said Sac State head coach Marshall Sperbeck. "Our guys played their tails off and it was a hard fought game between two very good football teams and both teams battled until the end."
In the first half the Hornets struggled to run the ball, but strong plays from the defense kept the team within striking distance.
Senior linebacker Jeff Badger came up with a sack on Montana State's opening possession, forcing a punt. The defense as a whole came up with five sacks on the day.
Eventually, Montana State broke through with a 70-yard drive halfway through the first quarter capped off by a 15-yard rushing touchdown by Montana State running back Cody Kirk. Sac State would answer back.
The Hornets added their own 13-play 68-yard drive to open up the scoring with a field goal – making it a 4-point game.
After a Montana State field goal made the score 10-3, Sac State quarterback Garrett Safron marched his team down to tie the game when he hit senior wide receiver T.J. Knowles for a 13-yard touchdown. Knowles had a career-high seven catches.
The game was tied 10-10 at halftime.
In the third quarter, Montana State struck first again with a 44-yard field goal from kicker Rory Perez, but Sac State would return a punch.
Earlier in the game, Safron missed junior wide receiver Morris Norrise twice on what would have been two touchdowns. In the third quarter, Safron found his groove as he hit Norrise for a 76-yard bomb. The deep strike gave Sac State its first lead 17-13.
Norrise finished the game with five catches and a career high of 128 receiving yards in the loss.
"I am going to have to work harder because obviously it was not enough to come up with a win," Norrise said. "Whatever I can do to help the team get a victory I will do. I will work on everything. "
In the fourth quarter, the Montana State rushing attack proved to be too much for the Hornets. Kirk added 49 yards of his 136 rushing yards in the final quarter. With 8:10 left in the game, Kirk visited the end zone again after a 2-yard run gave Montana State the late lead 20-17.
On Sac State's final possession, Safron was forced out of the pocket and he threw an interception on Montana State's 35-yard line with less than two minutes on the clock. The Hornets had only one timeout and after Montana State converted a first down the clock could not be stopped.
"They have a great seven-man box so they did really well stopping the run," Safron said. "We decided to take our shots and we just did not execute."
Safron finished the game with 250 yards passing and two touchdowns, but his two interceptions and the two team fumbles turned out to be the difference in this tightly contested battle.
Sac State is now 4-3 in the Big Sky and 6-4 overall. Its playoff hopes are not dashed, but a win against hated rival UC Davis in the Causeway Classic becomes a must have victory now.
The Hornets will have a bye week next Saturday before they face off against UC Davis on Nov. 17 in the regular season finale.
Joe Davis can be reached [email protected]