Men's soccer hopes for its fifth consecutive conference win against Cal Poly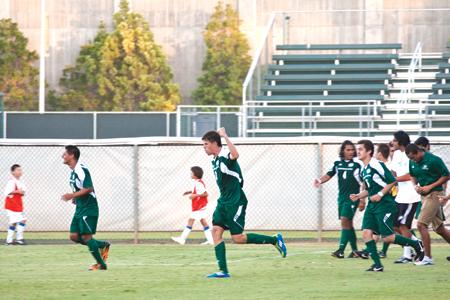 The Sacramento State men's soccer team will compete in its fifth consecutive Big West Conference match of the season Friday as it takes on Cal Poly at Hornet Field.
The Hornets (7-4-1, 4-0 Big West) kicked off the inaugural season by defeating UC Irvine and CSU Northridge on the respective opponent's territory, providing its only two away victories of the year.
Although the Hornets started out the season on a slump, winning only two of their first seven games and tying one, they are now on a four-game winning streak, which looks to carry forward throughout the remaining conference games. 
Outside midfielder Alex Lopez said the team's recent success is encouraging, but the team needs to continue to press forward.
Lopez said the team has positively turned around because it has been functioning better as a whole. Playing all out, making better decisions with the ball and communicating to one another have increased the production of the team, he said.
"We were struggling earlier on, but I think we found our rhythm," Lopez said. "It's a big confidence booster, but I think it is smart to stay grounded."
The Hornets will need to continue with humble hearts as they look ahead to conference opponent Cal Poly. 
The Mustangs (6-4-0, 1-1 Big West) have won six of their previous eight games, with one of the losses coming in overtime from No. 24 UC Riverside.
Head coach Michael Linenberger said he is looking forward to the remaining conference games, including Cal Poly, but also noted that the team needs to focus on each individual match.
"I'm excited about the recent results we have gotten, and I'll be happy to get it (to) continue rolling," Linenberger said. "We have a general idea of the way we want to play and try to play. But we also look at each individual opponent. Offensively we try to be a possession oriented team. Defensively we always try to get a shutout."
Although the Mustangs are on a current streak, overall they have lost three out of the five games they've played on the road.
The Mustangs' poor away performances may indicate an interesting matchup because the Mustangs have won the previous four matchups against the Hornets.
Lopez said the team feels very confident and comfortable playing on home turf, which he looks forward to continuing.
"We've been a really good team at home for the past couple of years," Lopez said. "We want to keep our good record at home. A lot of teams aren't really used to the heat out here, I guess, but for us it's good because we're out here every day."
Defender Matt Linenberger, the son of head coach Michael Linenberger, said he is also looking forward to the home field advantage of the Cal Poly match because the crowd's energy could have a positive effect on how they perform.
"We take a lot of pride in playing at home," Linenberger said. "We have to protect our home and give our fans something to watch. I think if we bring the right amount of energy, we'll have a good game."
This year marks the first for the Hornets in the Big West Conference after spending its last 20 seasons in the Mountain Pacific Sports Federation. 
With the introduction of the Hornets into the Big West, the conference split into two divisions. The North Division is composed of Sac State, UC Davis, Cal Poly and UC Santa Barbara, and the South Division is composed of UC Riverside, UC Irvine, CSU Northridge and CSU Fullerton.
"Being it is our first year in the Big West, we are kind of the underdog right now," Lopez said. "I think we go into every game with the same mentality. We don't really take teams lightly. We're not looking to change much, just keep doing what we're doing."
The Cal Poly match will be a critical match because only the top two teams from each division can qualify for the Big West Tournament Nov. 7.
"We don't want to just be a change in the Big West Conference, we want to be a factor," coach Linenberger said.