Men's basketball looks to improve this season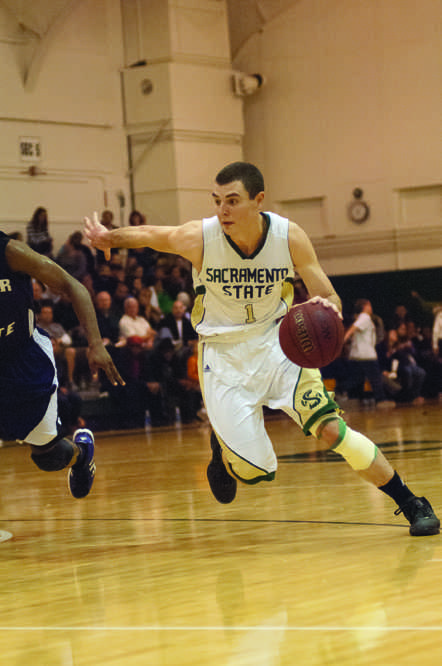 State Hornet Staff
October 31, 2012
Experience is an attribute the Sacramento State men's basketball team can hang its hat on as the 2012 season prepares to tip off.
More than half of last season's roster will make up this year's squad. The Hornets are bringing back eight players, including their five starters and leading scorers from the 2011 team.
Sac State features five seniors counting shooting guard Joe Eberhard, who is coming off of a season in which he set a personal best and the second best mark in Sac State history for 3-point percentage. Eberhard hit on more than 40 percent of his shots from beyond the arc and led the conference by playing more than 35 minutes per game.
"Last season I stayed outside the arc a lot," Eberhard said. "This season I want to become more of a driver and not settle for 3-pointers because I want to score in multiple ways and that is my goal."
Eberhard will be joined by a much stronger and more experienced sophomore point guard Dylan Garrity. The 2011 Big Sky Conference Freshman of the Year made his presence known in a big way last season and he hopes to increase his leadership role this time around.
"(As a freshman) I did not know what to expect because I did not know what other teams looked like," Garrity said. "This season I am coming back with some experience under my belt after playing all those minutes as a freshman. Now I feel way more comfortable coming into this season."
The Hornets finished the last half of their conference schedule in 2011 with a 5-3 record which Eberhard said gives the team confidence to start this season.
Even with most of the offensive production, leadership and experience the team is bringing back, Sac State is only ranked seventh in the Big Sky coaches poll and eighth in the media poll.
"I have seen (the Big Sky polls) and I have seen other polls that have us ranked higher," Eberhard said. "I mean, I feel a little bit disrespected by it. We are just going to go out and prove it on the court."
Head coach Brian Katz said he does not put much stock into rankings and polls. His goal for the team is to get better every day in practice.
"It is all speculation and people's opinion," Katz said. "I do not even know who it is and I do not even care. I just know we have five starters back who can all average double figures and I do not think there is a team in the league which could say that."
Last year the Hornets lost seven games by seven points or less. Katz credits losing the turnover battle in those games as the difference between winning and losing close games. Sac State tallied a total of 50 more turnovers than its opponents with more than 13 per game.
Katz addressed the issue by bringing in ball-handlers on the outside in freshman guard Cody Demps and Ohlone Junior College transfer Mikh McKinney. However, Eberhard said most of the turnover issues in the past came from the post play on the inside, but he praised the work the big fellas have put in during the early going.
"I know Konner (Veteto) and John (Dickson) have worked on it a lot this offseason," Eberhard said. "In practice the turnovers are way down. It should kind of solve the problem."
Sac State fan attendance to games dropped from 2010 to 2011. In a gym averaging barely more than half capacity, this year's team has the potential to draw full capacity crowds even in a lackluster facility.
"We will be a real exciting team because we can score the call and we are playing up-tempo and it will be exciting to watch," Katz said. "Even though the place does not look that great it works to our advantage when the team is playing well and 1,200 screaming fans are right on top of the opponent because the gym is so small."
As the season unfolds the critics will be proven either right or wrong. On paper the Hornets appear to be a solid team, but the final results will be found on the hardwood at season's end.
Joe Davis can be reached at [email protected]