Women's volleyball sweeps first Big Sky matchup against Eastern Washington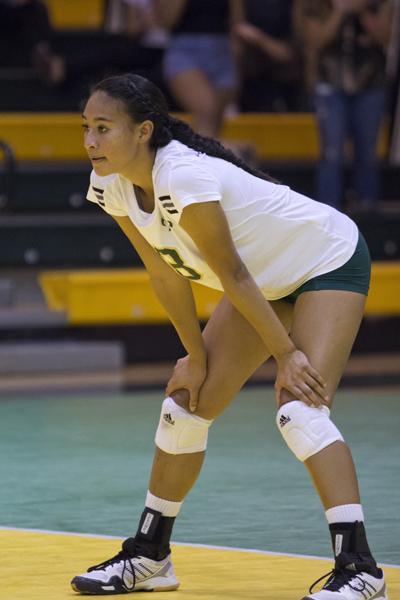 On Thursday, the Sacramento State women's volleyball team opened conference play with a decisive victory over Eastern Washington in three straight sets at The Nest.
The start of the first set was back and forth, but as the set wore on Eastern Washington could not keep up as the Hornets increased the pace.
"We worked on trying to speed up our offense," said head coach Ruben Volta. "We just set the ball at a much quicker tempo and it helped out our attackers be more aggressive."
Junior opposite hitter Kayla Beal and sophomore middle blocker Ashley Newcomb led the first set with four kills each. Newcomb was a perfect 4-of-4 on kill attempts.
Set two started off rough for Sac State when it fell behind early 4-13.
The Hornets fought their way back into the set when they went on a 24-13 run to finish the set.
Kiley Mansfield has been rehabbing a shoulder injury, but appeared back to full strength tonight as she had 5 kills in the second set to help give her team a 2-0 lead.
"It felt really good to come back and play," Mansfield said. "It was rough sitting and watching from the sidelines and not being able to help my teammates."
The third set was close with both teams trading possessions. Eastern Washington tied the score 10-10, but could not match the defense and attacks of the Hornets as Sac State cruised to a 25-18 win to take the set and match.
The surprise of the night was the performance of the true freshman Lauren Aikels.
Aikels, an outside hitter, was a key contributor in Thursday's win when she posted a career-high of 8 kills. She also served up three of the team's four aces of the night.
"My mindset was to keep the team's energy up," said Aikels. "I just want to keep the intensity up and do what I can to help make the team better."
With a healthy Mansfield and added firepower from Aikels, Sac State should have the pieces in place to improve.
The win gives the Hornets an even record of 5-5, but they are off to an ideal start in conference at 1-0.
Sac State will remain at home for a match against Portland State on Saturday. The first serve will be up at 7 p.m. at The Nest.
Joe Davis can be reached at [email protected]