Now is the time to love your body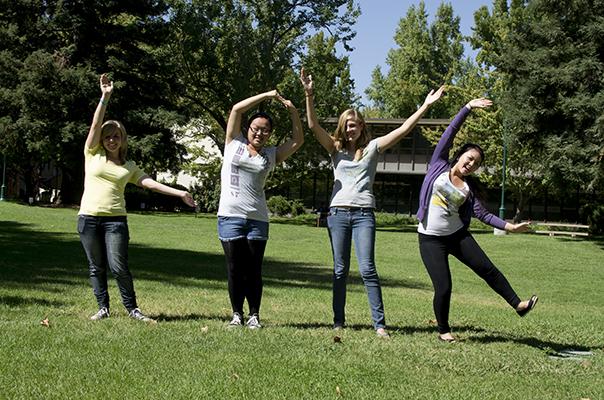 The stories about to be divulged are both about the average and not-so-average college student on campus, how they feel about their body today and the journeys they have taken to come to terms with, or even embrace, who they are.
As a child, junior math major Broghan Hunt was described as average, athletic and modest. Nothing has changed, she said, from how people described her then to how she describes herself now.
Hunt never had a major event in her life that made her uncomfortable with who she is, but many small occurrences like going to sleepovers, public school and pool parties heightened her awareness about physical differences.
"The knowledge that everyone isn't the same validates one's own self identity as an individual," Hunt said.
As a child, Hunt was exposed to all kinds of age-appropriate media and it hasn't seemed to affect who she has grown up to be or impede her confidence as a young girl growing into a young woman.
Rebecca Green, junior geology major, was described as a healthy child. Her media exposure from a young age introduced her to strong women such as country singer Shania Twain and news anchor Lisa Ling. Positive shopping experiences strengthening the bond between her and her mother helped build the frame for positive body image.
Though Green grew up with affirmative role models and joyful memories, keeping a positive body image is still a daily struggle for her.
This summer, she underwent a major weight loss surgery and has lost a total of 60lbs., but said she feels she still has more to lose until she reaches her goal weight. Green said she felt like weight loss surgery was her only option after giving birth to her daughter about six years ago.
Today Green is at a place in her life where she is starting to become proud of how she looks. She advises others to just be aware of what they put in their bodies.
"Take care of your bodies. Eat healthy, watch your portion sizes and get some physical activity in daily," Green said.
Though it can be hard for the average person to see themselves in a healthy light due to exposure to TV, film and advertising media; imagine trying to see yourself in a healthy light when there is no one in the media who looks like you, just as junior Kevin Coffman does.
Throughout his life, Coffman, a business major, looked up to his brother. He said his childhood was "good, with drastic ups and downs."
He attributes these ups and downs to living with a physical disability preventing him from walking on his own. A specific trip to Ikea with a horrible store layout and too many people crowding around him helped shape his general view of shopping and impacted all his future shopping trips anywhere.
Living with a disability and dealing with all the obstacles in his life has transformed him into the confident, yet somewhat cynical, ladies man he has become today. He encourages others who are in the same predicament to not limit themselves.
"(I believe in) all the clichés: stick to your own path, do what pleases you and embrace change," Coffman said.
Some strong individuals realize what the outside world thinks of them means nothing unless they give in to those stereotypes and media images of disability.
Jenny Zimmer, a fifth-year therapeutic recreation student who has a disability, grew up with multiple role models of both genders. One major role model she grew up with was her wheelchair-bound basketball coach of many years.
Zimmer describes her coach as a strong independent female who she felt she could rely on throughout her life.
Shopping experiences in Zimmer's life were both encouraging and irritating. She doesn't worry about what is in style, she buys what she thinks looks good. The irritating part comes when trying to try on the garments she wants to buy, as many big name stores have a bad habit of using the disabled fitting room for storage especially during the holiday rush period. Zimmer said it is a way of life when you are disabled.
"The chair is a part of me not all of me," Zimmer said. "Be your own person and don't let the chair consume who you are."
Beth Jones can be reached at [email protected]