Hornet runners plan post-college careers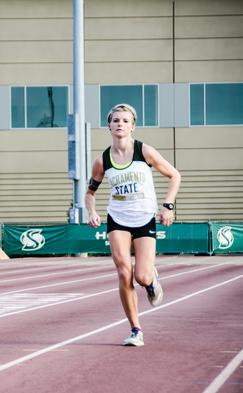 For the cross country runners on the Sacramento State men's and women's teams, the emphasis of their training and commitment pertain to collegiate running.
After college, the different avenues runners can or want to pursue depend on athletic ability, opportunity and sheer desire to continue running.
"Post-collegiate running in our sport is difficult because of the lack of support," said Kathleen Raske, Sac State director of track and field and cross country. "We know how hard it is to become a professional."
According to Raske, there is no professional cross country market, but track and field and distance events, such as road races and marathons, are possible professional outlets.
Recently, Sac State has produced a Nike-sponsored professional mid-distance runner, Lea Wallace.
Wallace finished sixth in the 800 and ninth in the 1500 at the 2011 NCAA Outdoor Track and Field Championships and garnered NCAA All-American honors. Since she graduated from Sac State in the spring of 2011, Wallace qualified for the 1500m and reached the 800m semi-finals at the 2012 United States Olympic Team Trials in Eugene, Ore.
Wallace's accomplishments aside, the reality is most runners do not get sponsored after their collegiate career.
A professional runner essentially has to be the "cream of the crop," Raske said.
For starters, anyone who has run before, whether for leisure, exercise or competitively, knows the sport entails pain, sacrifice and often requires copious amounts of time.
"We as coaches won't push anything," Raske said. "It has to come from their desire."
Senior Luke Frazier, a film production major, transferred from Community College of San Francisco in the fall of 2011 and has competed in both cross country and track and field for the Hornets.
Frazier said he wants to continue running competitively after college, citing the options of joining a track club or training on his own, then registering for open road races such as the 5k or 10k.
Regardless of whether he has the chance to become sponsored, Frazier said running will always be a part of his life.
"For me, running just makes me happy," Frazier said. "It gives you a feeling of accomplishment. It makes you proud about what you can do. I don't think I'll ever stop running."
Junior Reesey Byers said he has often envisioned becoming a professional athlete and wants to one day compete against the best runners in the world.
"Well my main goal is try to go professional for sure," Byers said. "That's my biggest goal ever. It feels like I'm on the right track."
Through the first two cross country meets of the 2012 season, Byers placed second at the UC Davis Aggie Open with 18:19.1 and first overall at the Hornet Jamboree with 19:42.3 over the four-mile course.
The possibility of running post-collegiately will offer him a chance to continually develop and expand upon his college success, he said.
"I want to see how good I can get and how much I can push my body," Byers said. "It's kind of hard to do what you love to as a profession, but I think if I can be a special runner and be successful, that'd be awesome."
But even with the select status that comes with being a professional runner, some athletes prefer to take different routes.
Freshman Emily Johnston, a forensic chemistry major, said she wants to continue running after she finishes college, but sees herself competing more for personal reasons rather than professionally.
"A lot of long distance runners continue on after college to do marathons," Johnston said. "Road racing and the long distances are my favorite."
Though she is more focused at the moment on running collegiately, Johnston also said that she would like to do social fun runs, such as the 5k Color Run, and various mud and obstacle races.
For runners, the course to professional stardom is narrow, challenging and traversed by few.
They are curious of what lies ahead, whether in life after college or out on a run. But as many of them know, one path often branches into many others.
James Heck can be reached at [email protected]