Football prepares for opener in New Mexico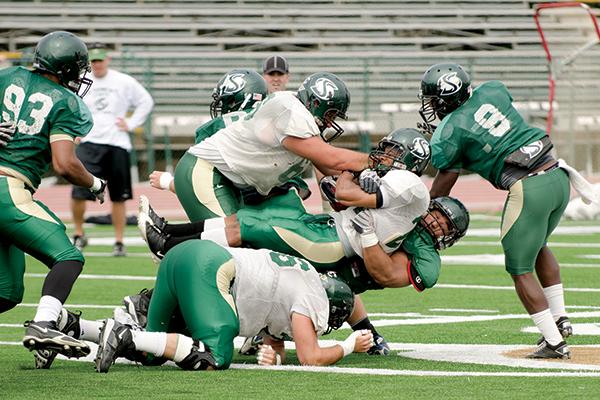 State Hornet Staff
August 28, 2012
Fans were able to get their first glimpse of the 2012 Sacramento State football team on Aug. 18 as the Hornets held their annual Green and Gold Scrimmage. The scrimmage was a part of "Bee a Hornet," an event allowing kids a close look at college football.
After the scrimmage, kids participated in football drills run by Sac State coaches and had the chance to get autographs from their favorite players.
"I think this event was good for the players to give back to the community," said head coach Marshall Sperbeck. "All of our players were kids at one time and when you look around, they are helping and involved. It is a fun day for everybody.
But the event was not only for the fans; this was also the first time Hornet players and coaches had a chance to participate in game-like simulations since practice started Aug. 5.
"It was fun to go out there and play," said sophomore quarterback Garrett Safron. "We have been working all during fall camp and it was nice to go out there and put it together."
Safron comes into 2012 with the most experience running the offense. He played in five games last season for the Hornets and finished the season with 394 yards passing and three touchdowns after senior Jeff Fleming was sidelined with a leg injury and concussion.
Like Fleming last season, the sophomore will use his flexibility to run the ball, but he said he also wants to improve his passing game.
"Last year, I didn't use my arm enough," Safron said. "This year, I want to use my arm and feed my playmakers and if I have to get out of the pocket, I can scramble."
During the scrimmage he not only passed for 133 yards but also ran 27 yards on four carries.
In only his second year playing college football, Safron will have to step into a leadership role due to teammates suffering injuries. Fellow quarterback Mason Magleby, who was set to compete for the starting job, has been sidelined with a back injury. Instead, two freshmen, Nolan Sorensen and Collin Burnett, will be next in line if Safron gets hurt.
"I am the only guy out of the quarterbacks who has been here the longest, so I feel like they look up to me," Safron said. "I have to take that role and I'm ready for it."
Last season, he learned how to transition from the high school to the college level and Sperbeck knows his quarterback can push it to the next level.
"I think Garrett is becoming more comfortable with the offense," Sperbeck said. "As he takes more reps, he is developing more each day."
The offense, however, will be slightly different than last season.
For the first time since Sperbeck has taken over the football program, he will not serve as the team's offensive coordinator.
Paul Peterson received the job this past January after coaching the quarterbacks at Southern Utah for the past four seasons.
"I think Coach Peterson has done a very good job implementing the offense," Sperbeck said. "We are running more plays in practice than we have before and I like what we are doing."
The offense proved to be more up-tempo than last season and features more variety of running backs.
The quartet of Ezekiel Graham, De'jon Coleman, A.J. Ellis and Sam McCowan will all compete for playing time, but according to halfback coach Aaron Ingram, McCowan leads the group.
"We are pretty blessed," Ingram said. "They aren't the biggest guys in the world but all of them are lightning fast."
The other side of the ball features a defense centered around senior linebacker Jeff Badger.
Badger finished third on the team last season in tackles and during this scrimmage he intercepted a pass from Safron and forced a fumble on the goal line.
"We have a lot of guys returning, so I think defense is going to be a strong point for us," Badger said. "We have very good team camaraderie."
The Hornets had one more scrimmage on Wednesday before their season starts on Thursday against New Mexico State, but for their first time in game-like situations, Sperbeck was impressed with what he saw.
"I liked that we made some plays on third down and the fact we protected our quarterback pretty well," Sperbeck said. " I really like what we are doing as far as the new system goes."
Ryan Kuhn can be reached at @rskuhn