UTAPS officers remain consistent writing up parking violations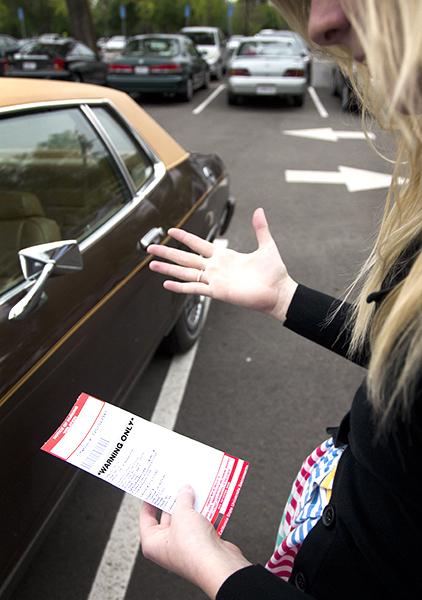 University Transportation and Parking officers have not changed the way they issued warnings or parking citations to Sacramento State students with missing permits or sloppy parking jobs.
Assistant Director of UTAPS Freddy Orozco said the way officers give out parking tickets is no different than it was before.
"The way citations are issued on campus has not changed," Orozco said. "Parking officers enforce parking throughout campus and citations are issued to vehicles when a parking violation has occurred."
Although some officers do hand out warnings, it is up to the officer's personal discretion whether the student gets a ticket, Orozco said.
Sophomore child development and psychology major Miriam Gomez said she once got a warning from UTAPS when she did not have her permit in her car.
"The first (warning I received) was the very first semester I got here," Gomez said. "I didn't get a permit or anything. So I just parked and went to class and came back. It was only 50 minutes and the ticket pretty much said I didn't have a permit. It was a basic warning."
According to the UTAPS website, most citations such as not having a parking permit, parking over the boundary line and not parking in a designated area costs $43, but they do not all cost the same.
Most citation fees on campus cost less than $100, but violations can cost students $133 for using fake parking permits or $333 for unauthorized usage of the disabled parking spots.
"Parking citations are not criminal violations," Orozco said. "In that respect, they are all the same. However, some parking violations are assessed a higher fee than others."
Senior finance major Philip Powell said he received three citations from UTAPS over the past couple of semesters. Powell said his most recent ticket was from briefly parking in the staff lot near the Academic Information Resource Center last year.
"I was kind of in a rush because I was going to meet a friend real quick in the AIRC," Powell said. "I was parked there for about 20 minutes. I was pretty mad just because I thought there might be some spots that would allow quick 30 minute parking."
In the 2010-11 academic year, 2,875 citations were appealed, but 904 of those citations were overturned for various reasons.
Orozco said some violations are appealed due to an error when the citation was issued or evidence is shown to counter the citation.
"The practice is two citations may be dismissed in a calendar year for 'no valid permit in view', after it is substantiated that a parking permit was actually in effect for the citation recipient at the time of the citation," Orozco said.
Gomez said she received her first ticket because her air freshener was blocking the numbers of her permit last semester.
"I didn't see it at first, but when I was driving I saw something flapping on my windshield," Gomez said. "I was like 'What's that?' and I was like 'Oh my gosh, watch it be a citation.' Then I saw it and was in shock."
Gomez said she appealed her ticket and waited throughout winter break for a status on her appeal.
"It took the whole break for it to appeal and when we came back to school, it was appealed and it got passed," Gomez said. "After I saw that, I felt relieved and was 'That's really good news.'"
Although blocked permits have a chance to be forgiven because of evidence, parking over the line is a routine daily violation always enforced.
Orozco said citations for parking over the line warrants a ticket because it gives students a hard time trying to fit their car in the parking spot and creates wasted space another car could have used.
"Parking on or over the parking space boundary line creates difficulty," Orozco said. "It can impair another vehicle's ability to park in the next space often rendering that space unusable by another student."
Gomez said attempting to park in a space where cars are over the line can be irritating for drivers trying to park their cars.
"This morning, I was trying to park between two cars and I couldn't get out," Gomez said. "The car on my right side was over the line and the one on the left next to me was over the line too and I couldn't get out. I just needed to move to another parking spot."
Whether the student gets a ticket or not depends on the officer and how much the car is over the line, Orozco said.
"Vehicles parking on or over the boundary line may receive either a citation or a warning, depending upon a number of factors as determined by the Parking Officer," Orozco said.
Students might think UTAPS is too harsh with how they hand out citations, but in the end, it is for the students' own benefit, Orozco said.
"By enforcing parking rules and regulations, UTAPS ensures that all who enter the campus and pay to park have access to the parking facilities they have paid to use," Orozco said.
Camille Anglo can be reached at [email protected].