Sac State's first farmers market a success among campus community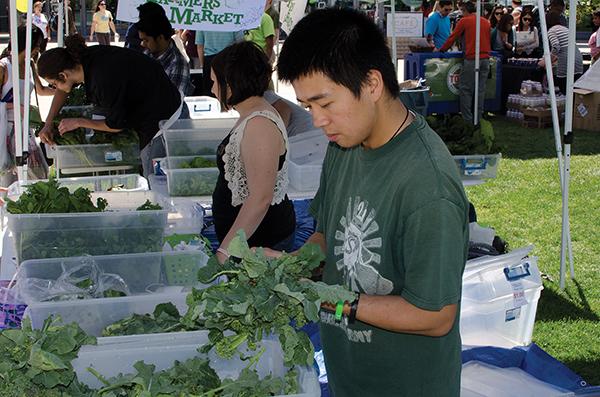 Associated Students Inc. Green Team considered the first ASI Farmers Market a success, based on its uniting of the campus community for a healthy purpose.
"I've had faculty come up to me and say that this is the first time they've seen faculty, staff and students come together for one event," said ASI Marketing Manager Reuben Greenwald. "We need more fun and engaging ways like this that engage our community here at Sac State."
The ASI table was handing out free tote bags to each of the attendees. By the last hour of the farmers market, a total of 250 bags were distributed. The Green Team considered this more of a success than it expected.
"I think today went really well," said Blake Menezes ASI Executive Vice President and chair of the ASI Green Team. "It's awesome to see the demand of students that came to check it out. We haven't seen so many people from Sac State at The Well before."
Menezes said the only setback they had was underestimating how many people would show up and how many supplies were needed to accommodate the large crowd.
With a total of three off-campus vendors alongside on-campus entities such as University Enterprises Inc., The Well and Student Affairs, each booth had long lines of people waiting to see what was being offered.
The Café at The Well had a lot of traffic come through as well. By 1 p.m., the shop was sold out on sandwiches and could no longer serve food.
The ASI marketing team assisted the Green Team with promotion using every channel of communication in order to get the word out. From signs to online videos, ASI targeted the Sac State community hoping to raise attendance.
The Saevang Strawberry booth was one of the most popular stops. The first batch of strawberries were sold out within the first hour. A second batch of strawberries was sold in the same amount of time.
Running the booth was senior history major Linda Saevang. Her family has owned the strawberry farm in Lockeford, Calif. for the past 10 years and was excited to be a part of the farmers market.
"When they contacted me, I was intrigued because it was a great way to promote our business on-campus," Saevang said. "With so few choices to choose from on campus, we need something like this on campus."
Saevang said the strawberries they sell are always picked fresh and sold that day. With the turnout they received this year, she looks forward to participating again.
"We weren't sure if we were going to make it out today," Saevang said. "But I'm glad that we were able to take part in it."
Throughout the day, ASI received many suggestions from faculty, staff and students to implement next year as they plan to make it an annual event.
"Next time we want to have live music, maybe even a live band along with many more booths," Greenwald said. "We could see this being a lot bigger in the future."
Menezes also wants to incorporate collaboration with more on-campus entities in order to promote all Sac State has to offer.
Following previous models of other university farmers markets, ASI hopes to expand its range to the surrounding community of businesses. The goal is to get the whole community involved and supportive of the event.
"We want to show that this is a success for the whole community," Greenwald said. "When we're all working together, we can do great things."
Maikalina Madali can be reached at [email protected].