Trio of gymnasts stay together as Hornets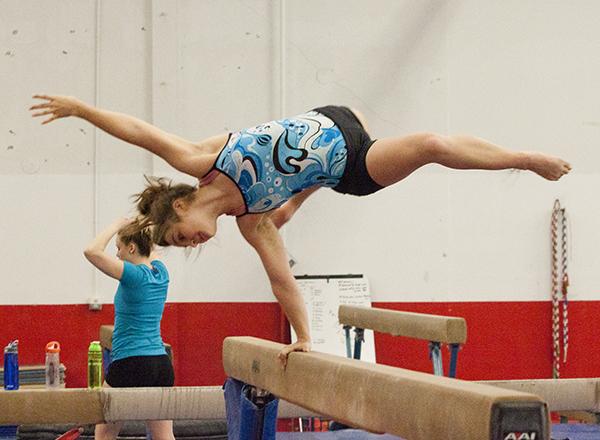 State Hornet Staff
March 7, 2012
Three Sacramento State freshmen gymnasts have followed each other from the time they were six years old, doing gymnastics and earning their Associate of Arts degrees while in high school – something, they say, has helped them now.
Communication studies majors Dallas Smith and Kayla Wonderly and business major Kalliah McCartney attend Sac State with their associates degrees, which is equivalent to having completed general education at a university. 
The three finished the Running Start program at Clark College in Vancouver, Wash., while still in high school and all said they hope to get their master's degree, which will keep them in school at least four years and allow them to continue gymnastics.
"We did the Running Start program because our parents highly encouraged us. It was a great opportunity and our high school was very small," McCartney said. 
Running Start is a curriculum at Clark College offering both high school and college credits to upper-class high school students. The credits earned within the program can be transferred to the student's college transcripts at particular universities. 
Wonderly said community college gave them a preview of what to expect at a university than high school would have alone, so they put themselves up to the challenge.
"At first I was really scared because people told me it was really hard, I have to stay focused and be really motivated and self-determined. But I am glad I didn't just stay in high school because it was well worth it," McCartney said. 
The coaches said the three girls are good students and get good grades, but realize it takes hard work and put time into their studies. 
"It definitely shows that they are goal-oriented even when they were in high school so they kind of have a head start," said assistant head coach Randy Solorio.
McCartney has thought about double majoring or getting a master's degree in accounting.
"I want to do something a little more boring," McCartney said. "Looking into being a financial adviser of some top company would be great and I would be making some money there." 
Wonderly aspires to work with celebrities as a public relations manager and hopefully move to Los Angeles after she graduates.
Many freshmen come in undeclared and use general education to help guide them into a field of study, but the three have been through that process already and know what they want to do.  
"I would love to go into some sort of sports communication, either working with a professional sports team or a media outlet like ESPN," Smith said. "That would obviously be a dream job." 
They all had other options for college. Smith was thinking about the United States Air Force Academy, Wonderly had her eyes set on Brown University and McCartney was looking at Cornell University. 
"My parents wanted me to go somewhere more prestigious and Brown and the Air Force were definitely higher up on their lists, but Sac offered me a scholarship so I took it and I'm very happy I did," Wonderly said. "My parents are happy. I'm happy now because they know I love the team." 
Both Wonderly and McCartney came to Sac State because they were offered scholarships for gymnastics and could transfer their associates degrees. The units could not be transferred to Brown or Cornell and they did not want them to go to waste.
"I was looking at Cornell and my dad was saying 'Don't worry about the money,' but deep down I knew it was way too expensive," McCartney said. "My dad told me, 'We've never expected you to get a scholarship,' but I always expected myself to get one and that was my goal and I feel like I owed it to them and to myself." 
Smith entered the team as a walk-on and said money was not the issue. She was looking at other schools such as Seattle Pacific University, Texas Woman's University and UC Davis, but ultimately chose Sac State.
"I liked the coaches, I liked the team, I liked the programs that they offer at the school and my best friends were going here," Smith said.
Smith said her parents would have preferred her to go to the Air Force Academy because she would have a decent job that paid well. 
"They wanted me to be happy and could kind of see that I wasn't going to thrive in that situation," Smith said. 
The girls said their parents are happy to see them together and it is nice being with each other in college. 
They did not purposefully come to Sac State as a group, it happened one at a time. McCartney committed first and Wonderly got recruited second, which Smith said made her decision much easier. The three said community college not only put them ahead academically, but also helped them grow as individuals. 
"Being part of community college makes you mature and ready for college in that sense of having to balance things and knowing how to prioritize," Smith said. "People coming from high school just want to have fun when we know what limits we have, like 'OK I can go do this, but I have to stay in and study the next day,' and so we kind of know those sorts of boundaries."
Head coach Kim Hughes said they realize next to academics, gymnastics is the key reason why they came to Sac State. 
"There is not the emotional stress that some people have shown in the past and they tend to be able to handle almost any situation that is thrown at them," Hughes said.
The coaches say they all are perfectionists and have the same outstanding work ethic.
"When they were recruited we told them, 'We recruited you for a reason and a freshman can make a difference,"' Solorio said. "'We expect you to make that difference,' and they accepted it and lived up to it.".