Sac State basketball went cold during a long winter break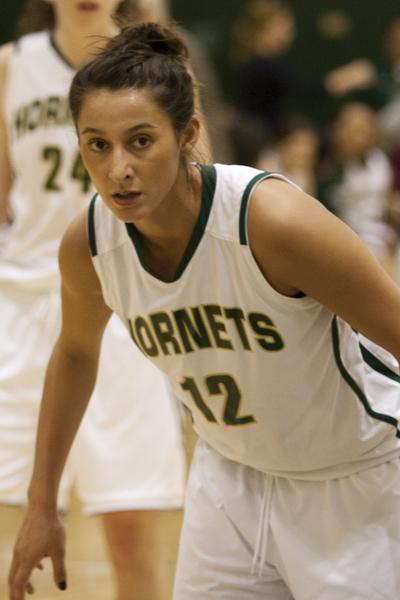 Winter break may have brought relaxation for some students, but for the Sacramento State men's and women's basketball teams, it was business as usual.
The men's team played nine games over the break and went 1-8. Through 18 games, the Hornets are 5-13 and 0-7 during Big Sky Conference play.
Junior forward John Dickson leads the team in scoring with 12.8 per game and junior forward Joe Eberhard leads the team in rebounds with 6.3 per game.
Freshman point guard Dylan Garrity has 110 assists, which is 6.1 per game and he is on pace to challenge the current Hornets single season record for assists (207), which is 6.9 per game by Chris Farr during the 1987-88 season.
The Hornets opened the season 3-1, but have gone 2-12 since their hot start.
Over the break, the Hornets won their first game against the University of North Dakota and then lost eight straight.
In the 13 losses this season, the Hornets have lost eight of the games by less than 10 points and five of the losses were by five points or less.
Eberhard said the team had the chance to win the games, but they did not finish how they should have.
"We just aren't putting together full games and end up losing by a possession or two," Eberhard said. "We need to start playing all 40 minutes."
Head coach Brian Katz said even though the team has lost so many close games, he likes how the team is playing.
"I like our group," Katz said. "We've really improved as a team and gotten better. We just haven't got it done (at the end of games.)"
To make matters worse, senior forward Walter Jackson left the team after the Dec. 22 loss to Southeast Missouri State University because of personal reasons.
Jackson averaged 7.4 points per game and 4.5 rebounds and started seven of the 11 games he played.
The Hornets have struggled on the road this season (1-8) like they did last year (1-14), but they have two home games coming up Thursday against Weber State University and Saturday against Northern Arizona University.
The Hornets are 4-5 at home, but they have lost their last four at the Hornets Nest.
The Hornets will look to end all their streaks when they take on Weber State Thursday for the second time this season.
Weber State won the first game on Dec. 31, 74-63.
Last season the Hornets started conference play 0-7, but finished strong and went 4-5.
After starting conference play 0-7 again this year, it seems the Hornets are on the same path again.
Even though the Hornets are nine games below .500, they are on pace to break last year's six-game home win total, one-game road win total and seven-game season win total.
Garrity said the team has been playing hard through the ups and downs.
"I think we have improved our intensity and aggression the past few games," Garrity said. "Just overall how hard we have been playing ever since the Weber game, we have wanted to be the most aggressive team and I think we have done that pretty well."
Thursday's game with Weber State will tip-off at 7:05 p.m. at the Hornets Nest.
"Weber State is undefeated (in conference)," Katz said. "It will be quite a challenge, but we are excited about it."
The women's team played 10 games over the break and went 3-7. Through 20 games, the Hornets are 7-13 and 2-5 during Big Sky play.
Senior Kylie Kuhns has been a force for the Hornets and leads the team in scoring with 13.8 points per game and 12.2 rebounds per game. Kuhns rebound total has her tied for second in rebounding in Div. I basketball.
Freshman point guard Fantasia Hilliard, sister of Hornets' senior running back Bryan Hilliard, leads the team in assists with 4.65 per game and has started all 20 games.
The Hornets season has been full of winning and losing streaks, including the current five-game losing streak they are on right now.
Over the break, the Hornets went 3-7, 2-5, and five of their losses were by double-digit points.
Head coach Jamie Craighead said the reason for the team's below .500 record is simple: They can't win on the road.
"We're 7-2 at home and 0-9 on the road," Craighead said. "Right now we're just not playing well and we were not in the confines of our gym (during our losing streak.)"
The Hornets go back on the road to face Weber State Thursday and Northern Arizona Saturday. The Hornets beat both teams at home during the break, 78-60 over Weber State on Dec. 31 and 91-85 in double overtime to Northern Arizona on Dec. 29.
The Hornets 7-4 home record has already destroyed last year's 3-11 home record and their seven wins is already three more than they had last year. The two conference wins is also already more than they had last year and the Hornets have done all of this with a young team made up of only one senior and three juniors.
Craighead said despite being young, she thinks this team is good enough to compete with anyone they play.
"We're really young," Craighead said. "I think we're playing hard and so far, I don't think there is any team we have played that we can't compete with and have a chance to win the game."
After already beating last year's win total, Craighead said that the team's goal is to get into double digit wins and make the conference tournament.
The Hornets will have a shot to add to their win total and win their first road game Thursday against Weber State at 6:05 p.m.
Josh Stanley can be reached at sports@statehornet.com.