Students with Sac State Serves devote time for veterans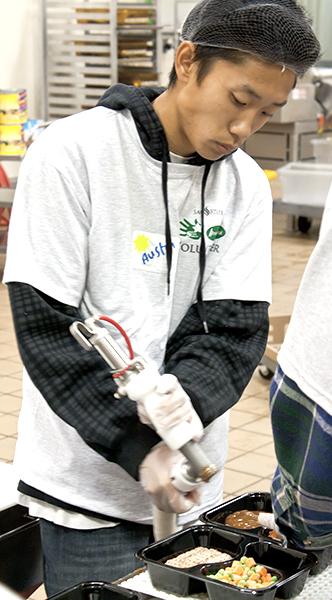 Meals on Wheels, a volunteer organization that provides meals to the elderly, is gearing up for Thanksgiving with the help of Sacramento State.
The nonprofit organization provides and delivers food in hopes of helping the elderly sustain independent and healthy lifestyles.
Wilson Tam, site and volunteer coordinator for the F Street branch, has worked at the facility for eight months, watching over much of the operation.
"Meals on Wheels is basically a program that promotes the general welfare of our seniors and enable them to stay home independently," Ward said. "I see this as a way to give back to those in need."
Each meal provides one-third of daily nutritional requirements. They contain a variety of entrees such as pasta, chicken au gratin, pork loin, and Kung Pao chicken served with fruits and vegetables.
Kris Ward, kitchen supervisor at the facility, oversees the production of these meals every day.
"We make about 2,000 meals every day, Monday through Friday," Ward said. "They're all going out to individual sites. We pack them here, they leave here, we do everything from start to finish."
Not only does Meals on Wheels deliver food to homes, but the organization has 22 locations throughout Sacramento for its mobile customers.
"We encourage the seniors to go out and dine, socialize with each other," Tam said. "They choose whenever they feel like going."
But without the help of volunteers such as Sac State Serves, Tam says Meals on Wheels would not be able to continue its operation.
"Our volunteers are the backbone of this organization," Tam said. Without them there is no way we could continue this. We have about 500 volunteers every month that donate 5,000 hours of their time to help us run this program smoothly."
Sac State Serves worked with Meals on Wheels in the spring and had a wonderful experience, said Misty Garcia, the program's volunteer coordinator.
"We first volunteered with Meals on Wheels last spring with Alternative Break, a volunteer service for students," Garcia said. "We had a really great experience, and I wanted Sac State Serves, a service for students, staff and alumni, to get a chance to be introduced to the organization."
With Thanksgiving coming up, working with Meals on Wheels provided the perfect chance for students to give back.
"They're really easy to work with," Garcia said. "Everybody is making a difference. It's our group with their staff and people are working closely together as a team and they know they're making a difference."
Once the volunteers come onto the site, it is up to Meals on Wheels to give orientation and safety training, making sure the volunteers have information on everything, and directing the workload.
"They're really respectful of their volunteers, very appreciative," Garcia said.
The staff at Meals on Wheels said they are thankful for their volunteers because the work they do not only benefits the organization, but the community at large.
"The volunteers are very important and we love to see them come through, they come from different areas such as schools and businesses or the community; it's definitely a positive thing and it's great for both sides," Ward said.
Once the volunteers are trained, the assembly lines are started.
"It's a fun competition. You have to keep up with the machines – how many things you can get into the machines and boxes," Garcia said. "Last spring, our Alternative Break group set the two-day record for most amount of meals packaged and prepared. It'll be fun to see if we can keep up with our reputation."
Leah Davis, faculty member in charge of procurement and contract services at Sac State, volunteered for Meals on Wheels for the first time Saturday.
"I've always wanted to get involved," Davis said. "I've always liked to help people and I think getting involved with the community is the best feeling you can get. At the end of the day it's priceless."
Davis said she thinks more staff should get involved with giving back, and working with the students is one of the most important aspects of their organization.
At the end of the day, Garcia said she was very pleased with her experience, as well as with the staff at Meals on Wheels.
"They're great at communicating with me, making sure I'm comfortable that the volunteers I'm sending here are going to have a great time," Garcia said. "They're great at speaking with our volunteers and they know the impact of what they're doing, and understand what the organization is about."
Kaitlin Bruce can be reached at [email protected]