Authentic Thai-Lao served at Sabaidee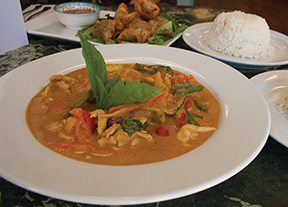 Much of the food at Sabaidee Thai Grille is similar to what is seen being sold on the streets of Laos, a landlocked country Northeast of Thailand.
The menu at the new Thai-Lao cuisine restaurant contains much more than the typical red and green curries which are offered at most Thai restaurants. Most of the dishes are signature dishes from the northern region of Laos, since that is where owner Boualai Dythavon and her husband, chef Phayvanh Dythavon, are from.
Although the red and green curries are extraordinarily popular, as Boualai Dythavon said, the Sabaidee menu provides many other options, which most other Thai restaurant menus do not.
"We will make you food that we eat at home. Not (food that is) changed or watered down or made for the American masses, but food that Laotians from the north eat daily," Boualai Dythavon said.
Upon ordering, we requested a specialty dish and were served quail-egg wontons. Most people might expect to be served curry, papaya salad or pad Thai as a specialty dish at a Thai restaurant, but those dishes are far from special compared with what is offered at Sabaidee.
Although the idea of eating quail eggs seemed a bit unnatural at first, it was worth it after having the first bite. The crispy-fried wonton was filled with a seasoned boiled egg, which made for a perfect silken and crunchy texture and the tamarind dipping sauce added enjoyable sweetness.
The signature Sabaidee menu includes shrimp or chicken noodle salad, Yum Salad Muang Luang – a salad consisting of mango, zucchini, banana flowers, prawns and cashews drizzled with tamarind sauce – mango salad with ginger, smothered chicken wings,  and more.
"We go as authentic as humanly possible," Boualai Dythavon said.
Like the main dishes, the desserts here are interesting and tempting. Depending on the season, different ice cream flavors are available and, currently, there are eight bold flavors ranging from Thai iced tea to lemongrass.
There is also a variety of many other Thai desserts, such as: coconut cake, fried banana drizzled with honey and even curried sweet potato egg roll puffs.
Sabaidee caters to all kinds of lifestyles and special health needs, including vegan and vegetarian, so everyone is able to enjoy their food.
Prices at Sabaidee are about the same compared with other Thai restaurants, which means it's not bad, especially since there seems to be more authentic options from which to choose.
The curries and entrees are all under $9, and most everything on the menu is under $11. The most expensive item is the grilled salmon dish, which costs $13.95. As for the desserts, they are all under $7, with the ice cream dishes only $4.95 each.
On her days off from Sabaidee, Boualai works as a senior nurse at Methodist Hospital. The stress of her job has led her to offer "EMS Appreciation" discounts at Sabaidee, where medical personnel, firefighters and police officers get a percentage off their checks. The restaurant also delivers to local hospital complexes for free during lunch hours with a minimum of a $45 order. After lunch, though, they deliver to hospitals for free no matter how much the order total.
"We deliver food to hospitals because we know how tough it can be for them to get food during their lunch hours," Boualai Dythavon said.
Alongside Boualai and Phayvahn, daughter Saphaipone Dythavon, a senior majoring in International Business at Sac State, and their two sons, Somchai and Viengsai, are active behind the scenes, helping with everything from customer service to marketing. The Dythavons have a long history of restaurant businesses in their family, including Boualai's grandmother's experience as a sous chef to a former king of Laos, and it is nice to see the Dythavons are working together to keep that restaurant legacy going.
Customers definitely get a welcoming feeling in Sabaidee. The walls contain incredible portraits of family members painted by Boualai's nephew. Along with these paintings comes a zen feel due to the earth-green walls, plant décor and Thai statues placed around the restaurant.
Another thing that adds to the restaurant's authenticity is the stimulating Laotian music that plays in the background. Combined with the food, this music helps customers feel at home with the owner and her family, which seems to be one of the main intentions at Sabaidee.
Sabaidee Thai Grille is located at 8055 Elk Grove Florin Rd. and is open 11 a.m. – 9 p.m. Monday-Saturday, and noon – 8 p.m. on Sundays. For more information, visit sabaideethaigrille.com.
Janice Daniels can be reached at [email protected]