Senior infielder named after former Twins center fielder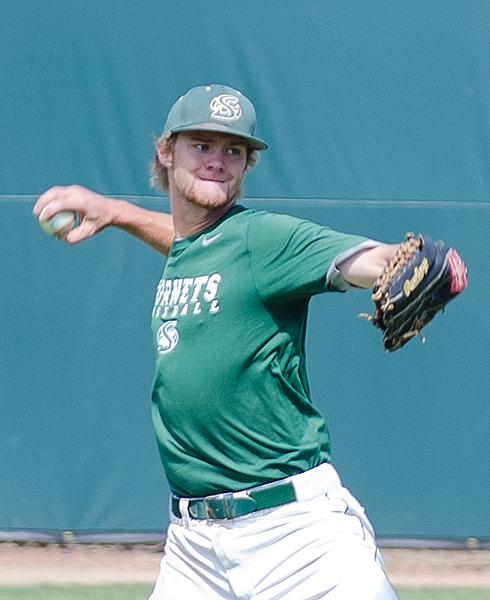 Senior infielder Kirby Young grew up in a family of devout Seattle Mariners fans, but was named after a former great Minnesota Twins player.
Young, who is majoring in communication studies at Sacramento State, played three sports in high school. His achievements in there have made him a well-rounded athlete on the baseball field at Sac State.
Although his family rooted for the Mariners, Young's father Dan was a big Kirby Puckett fan.
"(Puckett) was my dad's favorite player. He was Mariners fan, but he just loved the way (Puckett) played," Young said. "He loved the name, he loved the player, he thought it was cool, and I love it."
Young said that if he had been born a few years later,  he would have been named after Ken Griffey Jr. – a former Mariners all-star centerfielder. But since Griffey had not made it to the majors at that time, he was named Kirby.
Young was born in Kirkland, Wash., near Seattle, to parents Dan and Linda Young. Playing sports was encouraged in the Young household. In high school, Kirby Young was the quarterback and a cornerback for the football team, point guard of the basketball team, and averaged .390 at the plate on the baseball team. He achieved all-league honors in football and basketball, but it was at baseball that he most excelled.
"I like them all. It just depended on what season I was in that was my favorite at that time," Young said. "But I was best at baseball."
Young played two seasons at Edmonds Junior College in Washington before getting recruited by Sacramento State.
Young helped the Edmonds baseball team earn a championship title with a record of 38-9 in his freshman season.
Individually he excelled at the junior college level with a .351 average, but his time here at Sac State has been less impressive hitting only .233 his senior year as of Sunday.
Sac State earned an 18-35 record for the 2010 season and is on track to finish the same. Young was disappointed with last season's results and his performance, but now feels he is starting to play much better.
He wants people to remember this team as the group that laid the foundation for future success.
"I want to be known as the first class that rebuilt the baseball program into success because it's been struggling the last couple years," Young said. "We want to get back to where coach Smith had it in the '80s and early '90s. We want to change the culture."
The team underwent an overhaul of coaching replacement starting this season.
The turnover brought in three new coaches, including head coach Reggie Christiansen, who Young said could inspire some real changes for the team. Although he wants to win now, Young said doing things the right way is very important.
"We're trying to recommit to the culture and teaching the young guys the right way," he said. "We want to lay the foundation, but we want to get some wins at the same time. Its not just about doing things right off the field; we've got to play better on the field too."
Being on the baseball team, Young has developed close friendships with the players. He lives in an off-campus apartment with teammate Derrick Chung, a catcher on the team. Between the two, Chung said there is a competition off the field at home.
"He thinks he's the best at (Mario Kart). I mean he's currently No. 1 ranked, but I'm right behind him," Chung said. "He goes with Wario, but I think he's more like a Luigi."
Young said living with Chung is "entertaining," but that the competition in Mario Kart is very real.
"We mostly play Mario Kart on Nintendo 64. Everyone says I should be Luigi because I'm tall and skinny, but I'm definitely Wario," Young said. "Why? Because Wario's a badass."
Video games aside, Young's presence on the team is appreciated by teammates and coaches alike.
"He's a good player and a good team leader. He keeps us all in line and makes sure we're all doing what we're supposed to be doing," said freshman infielder David Del Grande. "He makes sure you're always (playing) hard. He's one of those guys that works harder than everyone else."
Young's dedication is beginning to pay off, but this is his last season of eligibility in college and his baseball career may be coming to end – at least here at Sac State. Being drafted to play professional baseball is the next step if he wants to continue his career.
"I want to keep playing," Young said. "My goal is to keep playing as long as I can and enjoy the game as much as possible." 
Young said communications isn't where his passion lies and he might look into going back home where he would attend University of Washington. There he would attempt an additional degree in engineering.
But with baseball in his blood, he said his dream would be to play professionally and for his favorite team.
"That's an easy one. I'd love to play for the Mariners," he said. 
You can reach Joe Fleming at jfleming@statehornet.com