Leaving Japan: best option for students abroad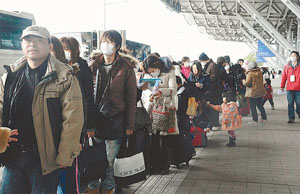 What are you willing to risk to pursue your dream?  
Students studying in Japan through the California State University's Global Education program recently faced that question when a massive earthquake and tsunami ravaged the country in March. Within days of the tragedy, CSU Chancellor Charles Reed issued a memorandum closing all CSU study-abroad programs in Japan.
Jack Godwin, director of the Office of Global Education, said students were not "ordered" to leave the country. Indeed, they could have chosen to stay. But, if they did stay, they would be on their own because the program was no longer available through the university.
The university did the right thing in canceling its program.
According to Reed's memorandum, damage to infrastructure and the ensuing uncertainty of the developing situation were enough to call students home.
And if the earthquake and tsunami were not enough, the Fukushima Daiichi Nuclear Power Station quickly became the next emergency as it began to leak radiation after being damaged by the tsunami.
If studying abroad, I would be very reluctant to come home early. The loss of units would set my graduation deadline back. But, the loss of the experience would be devastating.
"Almost every student who comes home from a study-abroad program says it was the most important thing they ever did," Godwin said.
It would definitely be the experience of a lifetime.
But the risk of long-term health problems as a result of a nuclear catastrophe would probably convince me to come home, even if the university had not cancelled the plan.
According to the United States Nuclear Regulatory Commission, exposure to radiation may lead to an array of deadly cancers that can take years to develop. It also causes reproductive problems that last long into the future.
Studying abroad for a year may be the best thing that could happen to a student, but radiation poisoning could be the worst.
Some may say there could be educational value in staying. Working under duress in the face of tragedy teaches resiliency, it allows a person the opportunity to serve as a volunteer and, possibly, help relief efforts on the ground. A student would come home with an experience he or she would never have had in a typical study-abroad program.
While providing relief efforts to those affected by tragedy is important work, it is not the purpose of the program. Reed had to make a choice. Was it safe to allow students to stay and should the university take the risk?
Students helping in relief efforts is "an interesting question, but it's not study abroad. This is a program for studying, not a work or tourism program," Godwin said.
Study-abroad programs are not intended to be life-or-death situations, and that is why the CSU system will not allow students to go to any country on the U.S. State Department travel warning list. According to the State Department website Japan was added to the list in March.
Students had fees refunded and financial aid reconciled, Godwin said. They were also given priority registration for the fall semester, he said.
Hopefully Japan will recover quickly and be made a part of the study-abroad program again soon. Although students did not get to complete the program this semester, the experience of living through the natural disaster must have provided an educational experience like no other. 
Kelly Walters can be reached at [email protected]