Softball's first baseman thrives both on and off the field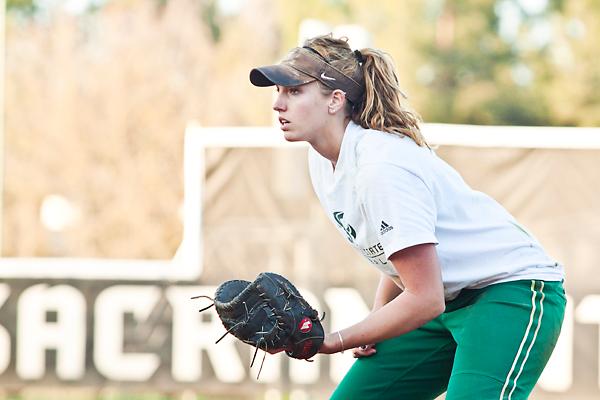 Growing up, Alyssa Nakken would have rather played with a ball than a Barbie.
Nakken, first baseman for Sacramento State softball, aims to lead her team to a conference championship this season. Skills she attained while growing up a die-hard sports junkie, an honor roll student, and an all around family-oriented person have provided her with the ammunition to motivate the Sac State softball team.
Not only did Nakken grow up playing softball, but with her parents encouraging her to play many sports, she expanded her resume to volleyball and basketball. She would have also played soccer, if it had not been for conflicting schedules.
Growing up with two brothers did not hurt either. Ryan and Jason provided a dose of competition and support, and caused her to grow a thick skin.
"They toughened me up," Nakken said. "That's why I played all the sports I did."
Sports run in her family.
Her older brother Ryan did a stint in semipro hockey as a goalie with the Stockton Thunder. And growing up, Nakken would frequently practice firing softballs at her brothers at home.
While playing three sports at Woodland High School, Nakken was also able to have her name on the Principal's Honor Roll all throughout high school with a 4.2 GPA. Sac State is no different for her.
Never allowing herself to diverge from her priorities of school and homework, she has received several scholastic awards for maintaining more than a 3.5 GPA.
Going into her third season, Nakken will share the role of team captain with senior pitcher Megan Schaefer and senior catcher Ashlee Adkins.
"She's one of our biggest leaders on and off the field," Adkins said. "She's the heart of our infield and a great example for younger players."
Nakken said she would not exactly consider herself an authoritative person, but would say that she leads more by example.
"She's so competitive and yet, such a nice person," said freshman pitcher Taylor Stroud.
Head coach Kathy Strahan said she has been impressed with the level of effort that Nakken gives every time she is on the field.
"She can fire you up just standing next to her," Strahan said.
The team is hoping that the fiery motivation will translate into wins. The Hornets are vying for a Pacific Coast Softball Conference championship this season.
Before joining the PCS and playing for Sac State, Nakken was highly interested in a few other schools. She had her sights set on UCLA and Ohio State University.
In 2006, UCLA's legendary coach Sue Enquist retired, which swayed Nakken away from Southern California.
During her senior year she took a visit to Ohio State, and once she arrived she realized that it was too far away from her family. And it was far too cold.
Her top two choices down, Nakken decided to tour nearby Sac State. Once she stepped foot on campus there was no turning back &- she was home.
"I fell in love with the campus, loved the coaches, loved the team," Nakken said. "Oh yeah, it feels like home."
Joe Fleming can be reached at jfleming@statehornet.com