Pizza Rock: Award-winning cuisine with rock?n?roll flair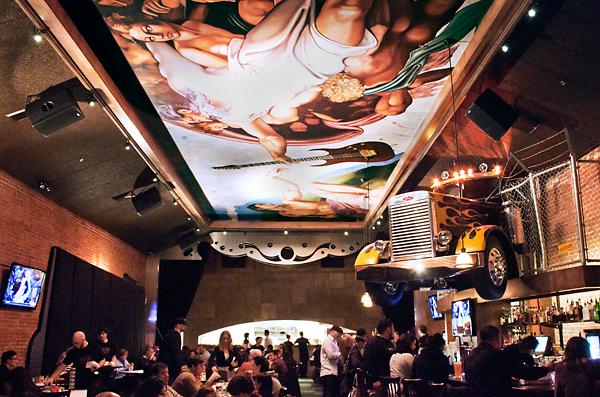 Ruby Skye and Slide are two staples of San Francisco's night life. Now, with the help of their owner George Karpaty, Sacramento is getting its own little piece of Union Square.
Part of the project to rejuvenate K Street is Pizza Rock, which aims to bring new life to a long-suffering area of downtown Sacramento. Located between District 30 and Dive Bar, which are all owned by Karpaty's group, Pizza Rock is the trifecta's family-friendly destination.
The hype leading up to Pizza Rock's opening has made it a must-see attraction, especially for younger socialites in the area.
"I read articles (about Pizza Rock) on Cowtowneats.com and SacBee that got me interested," customer Eric Kishi said.
Since the doors officially opened on Jan. 14, Pizza Rock has been full of eager Sacramentans, said Pizza Rock's co-owner Trevor Hewitt.
The response the first two weeks has been crazy, Hewitt said, all three venues have been at capacity every day since opening.
Hewitt and the rest of the ownership group have been looking for new opportunities outside of the saturated San Francisco market.
"Sacramento is a really attractive market, with the type of people and demographics (here)," Hewitt said.
The demographic of Sacramento's young and active professionals is sure to be impressed with Pizza Rock's aesthetic.
Walking in to the restaurant, you may be surprised by its vast and open interior. Its high ceilings and deep dimensions make it look like it could double as a basketball gym.
A look upward might confuse you further. Michaelangelo's painting "The Creation of Adam," part of his work on the Sistine Chapel's ceiling, has been recreated in Pizza Rock, but not without a rock "n' roll themed modification.
God can be seen handing Adam a guitar, setting the tone for the Pizza Rock's tattooed and rebellious vibe.
"I thought it looked awesome from the first time I saw it," Kishi said.
Along the right wall is a fully stocked bar. Lining the walls are flat screen TVs set to ESPN and other channels that are sports bar favorites.
The atmosphere was described as "kick-ass" by customer Daniella Ocon.
"It's relaxed enough for you to feel comfortable and not out of place, but it has a real rock "n' roll feel," Ocon said. "I definitely love the huge truck above the bar."
The truck Ocon refers to is a unique piece of decor that also serves a function. The front cab of a semi-truck is bursting through the side wall of Pizza Rock like the Kool-Aid man. At night the truck is used as the quarters for a DJ.
Despite the extravagant furnishings Pizza Rock is very affordable. A $15 "pizza napoletana" can easily feed two with slices to spare.
Since there is no shortage of opinion on the pizza, this reviewer went a different route when it came time to order.
The gorgonzola burger, while obviously not Pizza Rock's staple, is absolutely fantastic. The Kobe beef is seasoned just right, so as not to overpower the natural flavors of the meat. Topped with gorgonzola cheese, pesto mayo, lettuce and tomatoes, the burger is a perfect meal to savor with a beer.
The side order of fries was less impressive but next to a burger that good they became something of an afterthought.
Of course, most people aren't headed to Pizza Rock for burgers. The pizza, by all accounts, has really lived up to the hype.
"I ordered their famous margherita pizza," Ocon said. "(It) was out of this world."
Kishi, having already made multiple trips to Pizza Rock, has also experienced the margherita pizza.
"(It) was amazing. All the ingredients were fresh." Kishi said.
So far, the most popular pizza has been the Sacramento, Pizza Rock's combination pizza.
By the time you read this, let it be known that this reviewer will have tasted the Pizza Rock pizza. Not just in a defense of credibility, but to indulge the taste buds.
Dante Frattini can be reached at [email protected]