Accompanist helps seniors graduate in music department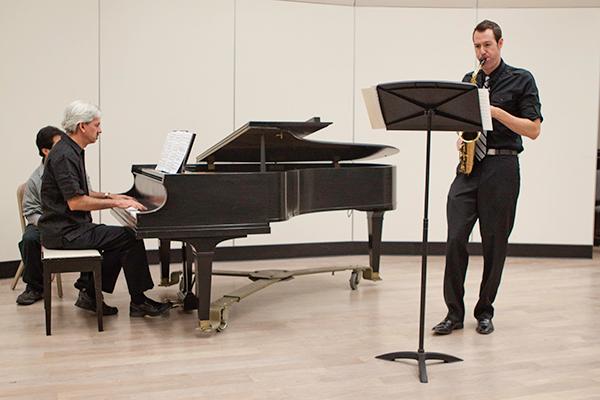 Sacramento State's accompanist does not have a normal 9-to-5 kind of job. In fact, it is quite the opposite.
With the piano as his instrument of choice, John Cozza can be seen every Friday night accompanying students in Capistrano Hall, Room 151 – the student recital performance room.
The music department requires each senior to have a final recital with some sort of accompaniment.
"I'm here during the day for some period of time and always here Friday nights doing recitals," Cozza said. "I think I'm accompanying 25 degree recitals this semester. So if you divide that up into 15-week semesters, that's about two a week."
On top of performing every week, Cozza makes time for recital rehearsals in his office with all of the music students before their performance night. His office in Capistrano Hall is filled with student recital posters on the wall with a piano and a big open space in the middle of the room for students to rehearse with him.
"I usually recite with them for 10-20, maybe even 30 hours," Cozza said. "There are recitals where I'm playing only on one song and there are recitals that I play on every piece."
Department of Music Chair Ernie Hills said having an accompanist at Sac State allows students to finish their music degree and gain experience playing with others.
"Music students must do a certain amount of work as a soloist with piano accompaniment," Hills said. "Some of the soloists, including voice, can hardly do anything without a pianist. So the pianist is an absolute necessity for students to complete their requirements."
Cozza received his master's degree in piano at USC and afterward traveled in Europe on scholarship. After spending time there, Cozza found his niche.
"I got a scholarship and went to Europe and lived in Vienna, Austria, for four years," Cozza said. "That's when the collaborative playing bug really bit me. I realized I really like working with people much more than sitting by myself at the piano in a practice room for five or six hours a day."
Now that he has a doctorate in collaborative piano, he spends those hours rehearsing recitals with students. Hills said one reason Cozza was picked to be the campus accompanist was because of his ability to learn quickly.
"He is such a smart, energetic fellow that he masters hundreds of pieces of music in a semester and performs them beautifully," Hills said. "This is the type of job where this guy is playing a different piece of music every 15-20 minutes all day long."
In fact, Hills believes Cozza's talent is out of the ordinary.
"He was playing along to a fairly complicated piece with one of our students and I looked up and realized that he was reaching into his right pants pocket to turn off his telephone," Hills said. "He managed to keep playing with only one hand for about 20 seconds and then went back to playing with two hands. You couldn't tell anything was missing. That's a talent I've never seen a pianist have before."
Senior recitals play a significant role in completing a degree in music. It is a chance for students to play in front of their parents, friends and family one last time before they get their degree.
Senior violinist Laura Rubinstein-Salzedo performed her senior recital on Jan. 28, which included two pieces with Cozza accompanying.
"It's so much better than playing with just yourself," Rubinstein-Salzedo said. "Rehearsing (the recital) was awesome. We had all these rehearsals and it was great – performing with him is the same way. He's always with me and listening."
Although recitals have their positive moments, Rubinstein-Salzedo said having the recital be the last challenge before her music degree makes the recitals more intense.
"It's so scary. The music is so hard and all of these people are watching you," Rubinstein-Salzedo said. "You can't stop shaking and you can't eat for days."
On top of recitals every Friday night, Cozza also makes time to run the Sacramento Saturday Club as the president.
"The main thing that the Saturday Club does when it first started in 1893 is we brought some really famous artists down to Memorial Auditorium. And now that there's the symphony, opera and ballet, we've become a private club," Cozza said. "We do private concerts in some of the people's homes of some of the members, but our main thing is scholarships. We give five $1,000 scholarships to Sac State students every year."
The scholarships awarded are based on standout musicians seen by the Sacramento Saturday Club. Cozza presents the checks to the students as they are awarded for their hard work.
Sac State students will continue to play right beside him and every Friday night Cozza's passion for music and students shows.
"It's a very joyous experience. They work for four years for bachelor's and two years for master's and this is their final recital to perform in front of their friends, family and peers," Cozza said. "That really makes it worth it – when they thank everybody including me. That's very gratifying."
Marshall Hampson can be reached at [email protected]