Sacramento State men's basketball defeats Menlo 83-65 in exhibition game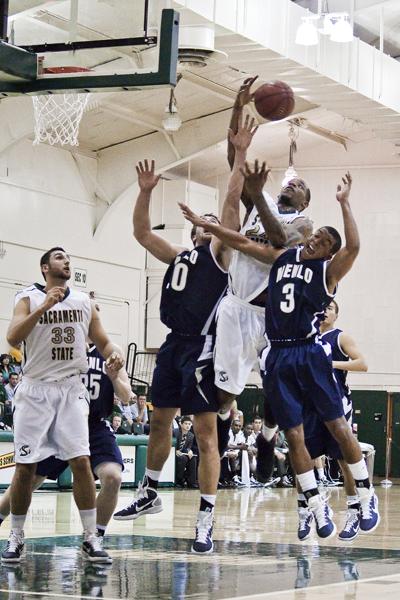 With a team-high of 19 points, junior Antoine Proctor led the Sacramento State men's basketball team to an exhibition win over Menlo 83-65 Friday night.
This was the first and only exhibition game before the season opener against Cal State Bakersfield on Nov. 14.
The Hornets led the final 37:03 of the game en route to the win.
Along with Proctor, three other Hornet players scored double points including Sultan Toles-Bay with 16 points, John Dickson with 13, and Zach Nelson with 10 points.
Of the 10 players who took the court Friday night, seven of them were making their Sacramento State debut. One was Proctor who scored 19 points, two rebounds and a game high four steals. He hit 5-of-7 from the free- throw line, and made 7-of-9 field goals.
Menlo took its highest lead of the game in the first half with just a little over 17 minutes left in of play 9-8, and in four minutes four different Hornet players scored to take an 18-9 lead with 13:29 left of play. The rest of the game the ball was in the Hornets' court with a consistent lead of six points.
Late in the second half the Hornets took a lead as large as 20 points, and finally settled in an 18-point win.
The Hornets will host Cal State Bakersfield on Nov. 14 at 4:35 p.m.
Cassie Kolias can be reached at [email protected]