Sacramento Mountain Lions lose a heartbreaker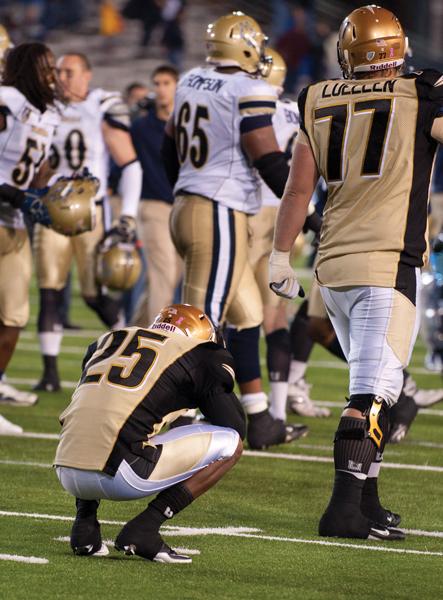 The Sacramento Mountain Lions lost in the final seconds of the game 27-26 to the Hartford Colonials Saturday night at Hornet Stadium.
Not only did the Mountain Lions lose their late lead, this loss ties Sacramento (2-4) with the Colonials (2-4) for last place in the UFL.
In the heart of a crowded playoff race a win Saturday night would have been a bright ray of hope for the Mountain Lions, but even after two missed field goals by Colonials kicker Taylor Mehlhaff the Mountain Lions couldn't get the win.
With seven and a half minutes remaining in the fourth quarter Mountain Lions running back Cory Ross took the hand off from the Hartford one yard line into the end-zone to put the Mountain Lions up 26-21.
The Mountain Lions attempted the two-point conversion but were unable to covert. Had the Mountain Lions kicked the extra point, the outcome of the one point game may have been different.
"I think what happens, no matter what you do you're going to be wrong," said Mountain Lions head coach Dennis Green. "Go for one you're going to be wrong. Go for two you don't make it you're going to be wrong."
The problems late in the fourth quarter for the Mountain Lions stood in strong contrast to their opening drive. The Mountain Lions took the ball to start the game and after a 40-yard return by Aaron Woods the Mountain Lions drove 59-yards down the field where Daunte Culpepper connected with John David Washington for the touchdown.
Next up the Mountain Lions take on the 5-1 Las Vegas Locomotives at Las Vegas. Two weeks ago when the two met in Sacramento, the Locomotives took the game 26-3 as Culpepper tossed three interceptions and the Mountain Lions combined for six turnovers.
AJ Taylor can be reached at [email protected]