Assistant takes break from pro career to help coaching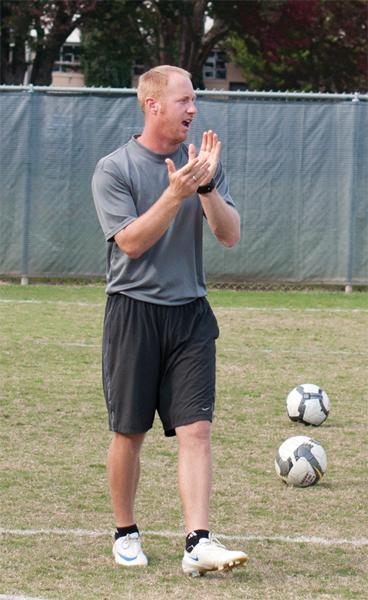 Sacramento State men's soccer assistant coach Matt McDougall is a former Hornet goalkeeper, and years later the buzz about him still continues even after playing professional soccer.
In July 2007, he led the Stockton Pumas to the Premier Arena Soccer League Summer National Championship, where he earned tournament MVP honors.
In 2006, he played for the Sacramento Knights of the National Premier Soccer League, making 72 saves on the season before prevailing in the 2006 NPSL National Championship with a 2-0 victory over the Princeton 56ers.
From 2006-08 he played for the Stockton Cougars of the Major Indoor Soccer League, and he said he is taking a break from his professional career.
Following his athletic career at Sac State, McDougall enters his fifth season coaching for the Hornets. In July 2009, he was promoted to the top assistant coach position after three seasons as the goalkeeper's coach.
"I like Matt as a coach, he brings intensity to the team," said sophomore forward David Norton. "He is an energizer and he always encourages us to have energy during training and games."
Not only is he a coach and teacher at Sac State, but he manages to find the time to coach the San Juan Soccer Club goalkeepers. McDougall said for how busy he is, he just wants to help his players with soccer and their lives.
"When you are a soccer coach, it's your life," McDougall said. "It's very rewarding to see the players grow up not only as individuals, but to help them in their lives. I get to know their personality and to see them become adults. I enjoy my job and I enjoy soccer."
McDougall said he loves helping out during the summer and winter camps because he gets to see the youth soccer players come on campus and learn just like he did.
Not only is McDougall a coach, but he has two beginning soccer classes this semester and will have three classes next semester. He aspires to have an intermediate class at Sac State.
"He is a great coach and he makes us work hard," said freshman goalie Cesar Castillo. "He has a lot of experience and every day I learn something new from him. He gives me advice on other things as well as soccer. I know he is always there for me."
McDougall is involved in every aspect of the program, including recruiting, and the day-to-day functions.
"Being a freshman he has really welcomed me and helped me progress as a goalie," Castillo said. "Overall he has helped me to do my best and play hard."
McDougall's soccer career began in Oregon at the age of nine, where he played for Oregon recreational soccer, then when he was 13 he moved to California and played for Placer United Soccer Club.
Placer United did not have a goalkeeper so one of his teammates decided to play goalie, then a few games into the season his teammate decided to play on the field.
McDougall took on the challenge of being the goalie and the teammates ended up splitting the time in the goal for the next couple of months. McDougall eventually took over the rest of the season and ever since then he has never left the goal box.
"Placer has been a staple of the community for years," McDougall said. "It's where I started and they helped develop me as a goalkeeper."
A 2001 graduate of Jesuit High School in Carmichael, McDougall competed in all four years of soccer and earned All-Metro League honors as a senior. As a Marauder, McDougall led the team to consecutive Metro Championships in 2000 and 2001 with an overall record of 30-0-1 during the seasons, while playing for River City Soccer Club as well.
McDougall was the goalie at Sac State during 2001-05 and is a three-time Mountain Pacific Sports Federation honoree. The alumnus holds the program record during his career with 306 saves and is second all-time with 10 career shutouts.
McDougall is tied with several Hornets with a single-season record of 19 matches started and during 2004 he made a remarkable single season record of 109 saves. Then in 2005, he picked up the second most saves in school history with 89.
McDougall continues to maintain his hectic schedule; during his spare time he manages to go watch the youth players he coaches.
McDougall said he has been contacted by Cougars head coach Antonio Sutton to play for them this season. He said he will possibly continue his professional career with Stockton if he has the time, but right now he said has obligations to Sac State and San Juan.
"The players are with us for four years and were kind of like their family," McDougall said. "It's that kind of bond that keeps me going."
Alyssa Huskinson can be reached at ahuskinson@statehornet.com