Student doubles as aspiring musician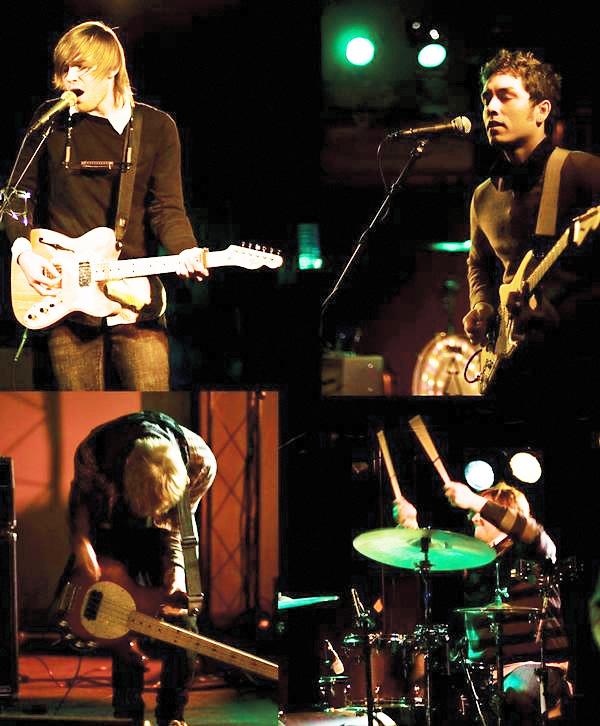 Heavy class loads, hours of reading, studying and the stress of finals week. These struggles of the average student are well documented. The story of the student who doubles as an aspiring musician is a lesser-known story.
The demands of college life are burden enough without the added pressures of practice, booking shows, distributing fliers and performing in a roomful of strangers. Such is the life of Sean Fleming, junior English major and founder of local indie band Sleep Now Moon.
Sleep Now Moon will perform at noon today at the University Union's Serna Plaza.
Originating in Folsom in the fall of 2006, Sleep Now Moon has seen its share of lineup changes. The band has acted as a revolving door for friends to come, jam, and leave as they please. At the moment, the four-piece band consists of guitarist and lead singer Fleming, keyboardist and bass player Nick Bear, drummer Mikey Koons, and guitarist Jason Martel.
"Each member brings new ideas to the table and our sound evolves," Fleming said.
The sound that plays through Fleming's head is one that began developing at a young age.
"My parents' musical taste was highly influential," he said. Growing up, Fleming said he was privy to the likes of many American music staples such as Bob Dylan, The Allman Brothers and Creedence Clearwater Revival.
It is not only classic rock that stimulates the band's creativity. According to the band's Myspace page, Sleep Now Moon's brand of Americana folk-rock also draws from the successful debut albums of Counting Crows and Third Eye Blind.
Justin Randle, senior psychology major and student assistant for UNIQUE programs, said the band's sound could be best described as the Dave Mathews Band colliding with the Yeah Yeah Yeahs.
"I am fascinated with how their heavy folk sound accommodates the synchronizing of their guitars," Randle said. "It
reminds me of up-tempo country while still having a base in post-alternative sound."
Fleming said inspiration alone does not produce art.
"Writer's block can be very tricky," Fleming said, "Sometimes you have to leave a song and come back to it. Ideas seem to come when you do not expect themto."
Fleming's songwriting approach prevents this from becoming a familiar occurrence. His advice: take your time and let the music flow from you naturally.
"I don't think there are rules (to songwriting), however if you (go) into writing a song (with) an impatient mindset you will probably end up writing one lousy tune," he said.
The product of Sleep Now Moon's hard work has been three studio recordings and a 2007 summer tour that took
the young band through the western United States.
Fleming said their tour experience was one of the best times of their lives.
Opportunities for extended tours are rare for any band trying to carve out their niche in the music scene, Fleming said. Touring can be expensive and startup acts must pay their own way.
Fleming helps to fund their tours by working 30 hours a week as a valet in downtown Sacramento.
"The first time you perform in front of a live audience will change your life. Our ultimate goal is to write the best songs we can, and who knows, maybe someday we will be lucky enough to travel the world while performing to large audiences every night," he said.
For now, they are balancing their intense desire for musical success with a generous serving of reality, which is the necessity of education.
"We are not booking any out-of-state shows right (now), so that has been a problem." Fleming said, commenting on school's effect on the band. In the past, school has limited them to only "embarking on quick out-of-town stints," he said.
Fleming said young indie bands have little chance of making it big when the music business is so cruel.
"It's so strange betting against yourself … we knowingly go against the odds." Fleming said.
Fleming said even with these long odds, he knows where his priorities lie. If an opportunity presented itself, school would be thrown out of the car, he said.
"Music will always be No. 1. I can finish my last year of college when I am 70, right?" he said.
Dante Frattini can be reached at [email protected]