Sacramento State volleyball team thrives despite major injuries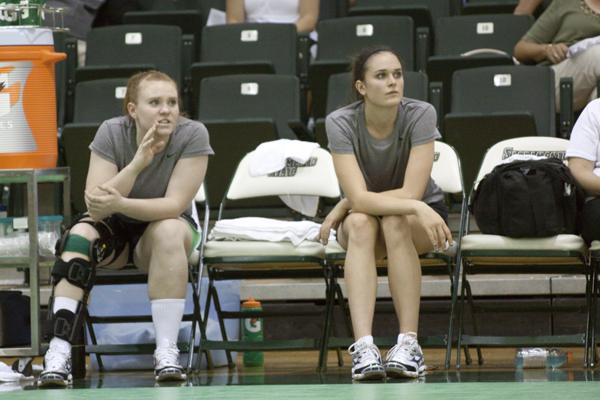 The Sacramento State volleyball team faces three major obstacles this season: Two knees and a shoulder.
The team is facing a season without two players who would have been in the starting lineup, including setter Hannah Hettinga and middle hitter and co-captain Maddison Thivierge, who both are benched because of knee injuries. Right side hitter Anna Schoener was originally out with a shoulder injury, but has been placed in a new position that will be less strenuous on her shoulder.
"We are definitely going to have adversity this season," said co-captain Janelle Currey. "I think we are mature enough and tough enough that we should be able to fight for it and still be successful."
Hettinga started feeling pain in her knee last season due to tendonitis, when she appeared in 24 matches. She came into August practice and tried to see if she could play through the discomfort. But it was not good news. She will be redshirt as she and the coaching staff opted for season-ending surgery on Aug. 12.
"It's rough not playing especially when you play the first couple days of double days and then the decision is that you can't play," Hettinga said. "It's rough but I'm trying to support and do what I can."
Thivierge hurt her knee last season during a practice where she did a twist and plant, and landed on her knee wrong. She will continue to be co-captain for the team.
"It's very different," Thivierge said. "I have to find different ways to lead and not just on the court and not physically. I have to be more vocal, so now is a time to look at the game from a different perspective and to offer different kinds of advice rather than being able to show it through work ethic."
Schoener will get playing time at the setter position, a position she has never played before. As a setter she will not have to handle as much arm swinging as as her normal position. She will battle through the shoulder injury as a setter where she can provide a block with her 5-foot-11 frame.
Schoener has come back from multiple injuries during her five seasons with the team, including a season-ending shoulder surgery in 2007 and a knee injury in 2008. She came back in 2009 and played in 30 matches.
"I don't think I've ever been that nervous to play before," Schoener said about her new position. "But I really enjoyed it. I think if we just work hard and remember that it comes down to how much we want it and not just individual skills. I think we showed a little of that this weekend."
Despite injuries, the team went into its first tournament in Corvallis Ore. on Aug. 27-28 and ended with a 2-1 record.
The team beat Oregon State University and University of Portland. Currey and junior middle hitter Kelsey Elston led the team. Currey averaged 4.13 kills and 3.53 digs per set, while Elston averaged 1.60 blocks and 1.13 blocks to follow her five service aces.
The team still holds out hope for a good season.
"This season will be a little bit interesting," Volta said. "We've been a little bit snake-bitten with some injuries, so we've got some people playing new positions, and some new people on the floor. I think they are working hard and I like what I see at practice."
Cassie Kolias can be reached at [email protected]