Residence halls welcome students for fall 2010 semester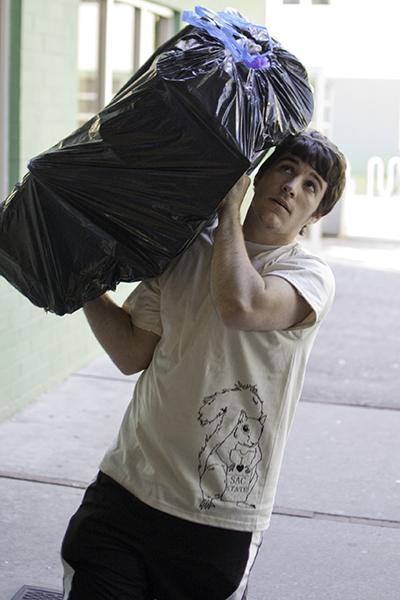 Leaving their homes and comfort zones behind, students began moving into their dorms for the fall semester as Sacramento State opened its residence hall doors Friday morning.
Traffic in the residence parking lot started early as students arrived in heavily packed cars, along with their families and friends.
They were greeted by members of various Sac State campus clubs, who stood by in uniform shirts. The volunteers were ready to help by directing parents to the right halls and lending a hand in unloading cars.
Lauren Wagner, freshman kinesiology major, was one of the new faces on campus who arrived to settle into the residence hall on Friday.
Wagner drove 400 miles the night before from Camarillo, a small town in southern California.
"Lauren grew up in a very quiet town," said Lauren's mother, Mary-Lynn Wagner. "She's been in school with the same kids since preschool till she graduated."
Lauren Wagner said one reason she is looking forward to living in the dorms this semester is because it will be a change of scenery for her.
"I'm excited just to be somewhere where no one knows me, I'm looking forward to living with someone I don't know and learning to be with different people and coping with different attitudes and opinions," Lauren Wagner said.
She chose to live the dorm life because of the opportunities that it offered.
"I want to be involved in sports and clubs on campus, and living in dorms makes that easier because I can just walk down to campus," she said.
Mary-Lynn Wagner said although she is happy for her daughter, moving day was still an emotional roller coaster.
"She's our first child moving out, and while we'll miss her to death at home, we're still very excited for her," she said. "She wants this more than anything, so we want it for her."'
Lauren Wagner and other students who moved in spent the majority of their morning checking in, receiving parking passes and situating their belongings in their new rooms.
After saying goodbye to their families, students went to the Dining Commons for their first dinner together.
Rachel Ripley, sophomore English major and student assistant to the university's Housing Department, assured living in the residence halls is an experience that will offer students something that cannot be found living off campus.
"Students living in the residence halls not only experience individual freedoms from family and close relatives, but they also get to meet other students from different backgrounds," Ripley said.
Student's feelings about moving in vary immensely, Ripley said. From her observations, she said it appears that freshmen students anticipate the move more so than transfers or returning students.
"Older residents may be excited, but they also know how the semester will feel and, for better lack of terms, "how the system works,'" she said.
One returning resident, Ally Lodwig, sophomore speech pathology major, seemed just as excited as the new freshmen.
Lodwig lived in Jenkins Hall her freshman year where she made friends quickly.
"I made a promise to myself on the first day that I would go and introduce myself to four girls in my hall and today I consider all those girls my best friends," Lodwig said.
The Housing Department set up an ice cream social and activities in the quad and offered music and dancing to ensure other students would make new friends, she said.
Students from every hall participated in the quad activities but as the day came to an end, they reported back to their own halls for their "in-hall events."
Lodwig lives in the American River Courtyard residence halls, which Ripley said are in high demand.
"The dorms are more like apartment style suites where each resident has their own room and connecting living rooms, a kitchen and a bathroom," Ripley said. "The other halls share bathrooms, kitchens and living room areas."
Lodwig said her old dorm had one bathroom that was placed in the middle of the hall.
"It's exciting not to have to share a shower with like 28 other girls this year," she said.
The ARC's in-hall events consisted of root beer floats, dancing and air hockey.
The agenda for the next two days would follow the same routine as students continued to move in, and other activities such as making s'mores and scavenger hunts are still lined up for the students.
Lodwig enjoys the time she has spent with her hall mates. She said they encouraged her to do things she would not normally do, like join the Salsa Loca Club and campaign for ASI.
"Last year for the first football game of the year the entire dorm gathered and walked down to the game together," she said. "That's what's great about dorms, if you're ever scared to socialize or participate by yourself, they kind for force you – so, it's a great way to meet people."
Lodwig said movie nights, Friday night journeys to clubs and midnight snacks with a friend were some of the few things that make dorm life special to her.
"You're meeting strangers who are just as scared as you to meet new people and try new things, and you go through it together," she said. "I definitely recommend dorm life to everyone."
Miriam Arghandiwal can be reached at [email protected]