Legislators, students tackle higher education crisis in political forum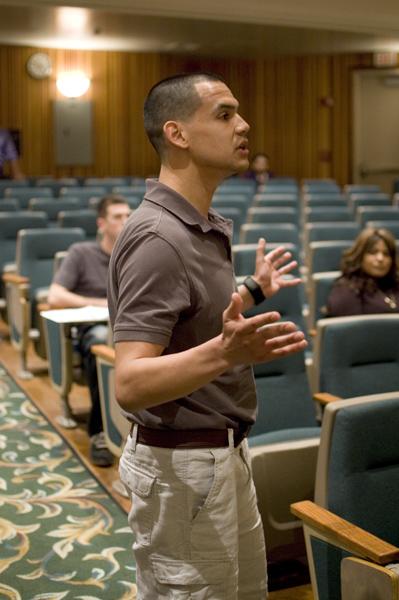 Assembly members Roger Niello, R-Fair Oaks, and Alyson Huber, D-Lodi, and California Faculty Association Capitol Chapter President Kevin Wehr discussed issues concerning the government's ability to fund higher education in a political forum held today in Hinde Auditorium.
The forum started with 13 people in the audience. Rylan Gervase, Associated Students, Inc. secretary of state affairs and organizer of "First Things First," opened the discussion with a question of how the state government plans to fund higher public education.
The panelists talked about ways to stabilize California's fiscal future, such as opening new revenue streams and modernizing tax codes. Niello suggested raising tuition costs at community colleges.
Wehr said state officials should better manage their priorities and figure out a way to downsize the prison system so the state is not spending equal amounts of money on education and on a failing prison system.
"Public education is literally bleeding," Wehr said, reiterating the need for change and reform.
There was also a discussion about legislative efforts that could help provide funding for higher public education.
Two of which are CFA-sponsored bills: AB 656, which aims to provide funding for higher education by imposing an oil severance tax, and SB 330, which seeks to provide transparency on auxiliary organizations.
Students had the opportunity to get involved in the discussion and ask questions to the panelists.
Senior government major Nicole Lerner suggested withholding grant money until a student finishes all four years of college.
Lerner's suggestion sparked debate among the panelists and brought out the panelists' ideological party differences.
"This was an amazing opportunity to interact with my legislators and ask them the questions I want answered," Lerner said. "I am glad I came, but I wish more people would have."
At the end of the forum, there were more than 20 people in the audience.
"First Things First" is the first of a three-series event titled "Education in the Recession." The second one, "Listen and be Heard," will be held from 3 to 5 p.m. on Monday in Lobby Suite in the UniversityUnion.
Lauren Greenwood can be reached at [email protected].