Harbatsiuk hopes to repeat as Big Sky Conference MVP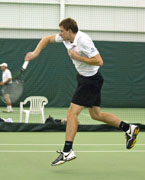 Sacramento State's men's tennis player Kiryl Harbatsiuk is looking to win the Big Sky Conference Most Valuable Player award for the second year in a row after winning the MVP last year in the 2008-09 season.
He helps lead one of the strongest Hornet athletic programs.
Harbatsiuk came from Minsk, Belarus, to play tennis at Sac State. Women's tennis star Katrina Zheltova and both the men's and women's head coaches also camefrom Belarus, which made his choice to come to Sac State a lot easier, he said.
Harbatsiuk won the 2009 Big Sky MVP award as a sophomore, becoming the third Sac State player to win the award in the last three years. He joins Anton Stryhas and Xavier Barajas-Smith as Big Sky MVPs.
Harbatsiuk led the conference with an 18-3 record and an .857 overall winning percentage as a No. 1 singles player. He also managed to go undefeated the whole season in conference play with an 8-0 record.
Harbatsiuk said getting the MVP award was a good feeling.
"It's like when you work really hard at your job and you get paid at the end of the month," he said.
Harbatsiuk is working at winning the award for the second season in a row but said it is going to be tough.
The Hornets are playing five top 65 teams this season. In contrast, the team is not ranked in the top 75.
Kevin Kurtz has been an assistant coach for the Hornets for five years and was pleased about Harbatsiuk's work ethic and result as MVP last season.
"He works incredibly hard every practice, game and match," Kurtz said. "He was playing great."
Even though Harbatsiuk has an undefeated record of 3-0 against Big Sky opponents this season, he holds the team's highest winning percentage with .800. The Hornets still play 63rd-ranked University of Denver and 39th-ranked Texas Christian University later in the season.
"I have to put in more effort and be more concentrated when I play (ranked opponents)," Harbatsiuk said.
Head coach Slava Konikov said the team needs to beat two or three ranked teams in order to get to his goal of being a top 50 team. Konikov has seen Harbatsiuk grow throughout the years of his coaching career at Sac State, being with him all three years Harbatsiuk has been playing for the team.
"He understands the game. He wants to play at a professional level in the future," he said. "(He) needs to beat two or three ranked teams minimal to become ranked, though."Harbatsiuk's roommate and best friend Anton Stryhas also plays on the team as one of the two senior captains and is also from Belarus. The two faced off earlier in the season in a "challenge' match for the rights to the No. 1 spot on the team.
"Playing him was very tough," he said. "He's better on offense and I'm better on defense. I just happened to win that match."
Stryhas, who won the 2008 Big Sky MVP, ended up taking the No. 1 spot from Harbatsiuk.
Stryhas and Harbasiuk also join forces on the court as the No. 1 doubles team.Stryhas said he likes playing side by side with Harbatsiuk.
"It's easy. There's a lot of respect and support between us," Stryhas said. "Support is the key. When he's playing bad, I'll pick him up and he does the same for me."
Stryhas said Harbatsiuk could take over as captain next year.
Harbatsiuk and Stryhas went 15-7 as the No. 1 doubles team last year, finishing with the fifth-best winning percentage in the conference.
But Harbatsiuk will most likely not have to worry about his roommate and best friend leaving him in his senior year. Stryhas said he'll try to stay around next year to be an assistant coach to help Harbatsiuk get better and play a couple of games with him during practices.
Harbatsuik has a couple of goals in mind for his junior season and for the rest of the team including winning the Big Sky Conference again.
The Hornets started the 2009-10 season with losses against Big Sky opponent Northern Arizona and ninth-ranked Stanford. Stanford gave the Hornets an early goodbye in last year's NCAA Division I Championship Bracket, beating Sac State in the first round 4-0.Sac State got back on track, however, and won the next three matches including a win against rival UC Davis.
Harbatsiuk said he would like to get back to the NCAA Division I Tournament again. He said it was hard to get to the tournament last year and lose in the first round against Stanford.
Harbatsiuk said he enjoys playing tennis at Sac State."I like the people here. I like the coaches too," Harbatsiuk said. "I get along with everybody."
Marshall Hampson can be reached at [email protected]