Student arrested for murder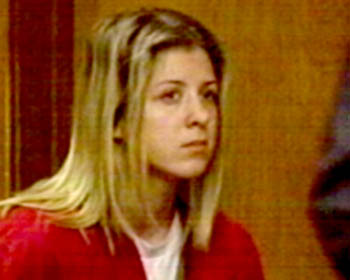 A Sacramento State senior will appear in San Joaquin County Superior Court today on charges of murder and conspiracy in the death of a Sacramento lawyer, the latest in a series of events that have stunned her professors, classmates and acquaintances.
Sarah Elizabeth Dutra, 21, is charged as an accomplice in the poisoning death of Larry McNabney, whose body was found Feb. 5 in a vineyard east of Stockton. Authorities arrested Dutra Mar. 19 after McNabney's wife, the primary suspect in the case, implicated the art major in the crime.
Dutra is not eligible for bail, due to special circumstances that include "murder for financial gain" and "murder by means of poison" said Lester Fleming, supervising deputy district attorney for the homicide division.
"She implicated herself and admitted knowing that Larry McNabney was in the process of being poisoned," Fleming said. "She admits to getting out of the car and digging a grave with a shovel."
Kevin Clymo, Dutra's attorney, said that information was obtained after extensive questioning by detectives.
"They interrogated her through the night for 12 to 13 hours," Clymo said. "The first two detectives spent hours with her, with no advisement that she had the right to remain silent."
Because of that, Clymo did not think Dutra's confession is admissible in court.
Despite reports that the prosecution would seek the death penalty, Fleming did not think that was likely, especially since Dutra has no criminal history.
"As far as we know, she hasn't even had a parking ticket," Fleming said.
Dutra began college four years ago, after graduating from Vacaville High School in the top 10 percent of her class, according to principal Wayne Mills.
"She was an outstanding student and was very involved in the school life here," Mills said. "She was the senior class president and was a member of the drill team."
She enrolled at Sac State in the fall of 1998 and became a residence adviser in Jenkins Hall the following year.
"We were both RAs at the same time in the same building," said intercultural communications major J.J. Hurley, who said he had very little contact with her. "We went to meetings together, but that was about it."
In her third year, Dutra traveled to Florence, Italy as a foreign exchange student.
"Before she went to Italy, I talked to her about the trip and her drawings," said graphic design and art major Daniel Nordas, who had two art classes with Dutra before she went to Italy. "When she came back, I heard about how great the trip was, how great living in Florence was."
Sometime in early 2000, Dutra began working in McNabney's Howe Avenue law office, according to a report in The San Francisco Chronicle. The attorney was last seen Sept. 10, 2001.
After a nationwide search, his wife, Laren Sims, was arrested in Florida on March 18, where she named Dutra as her accomplice. Sims went by the name Elisa McNabney during the six years she was married to McNabney, and sheriff's officials said she has had other aliases as well.
After naming Dutra as an accomplice, Sims hanged herself last Sunday in her Florida jail cell.
Between September and March, Dutra continued studying at Sac State. In a small ethnic studies class during the January intersession she met Nichole Latoski, a senior recreation and leisure studies major. Though the two rarely spoke and never exchanged personal information, they sat next to one another in class and sometimes walked to the parking structure together.
One night, Latoski noticed Dutra's red BMW, which authorities now believe Sims bought for Dutra after McNabney's death.
"I said, 'Gosh, that's a really nice car for a student.' She smiled and said, 'Thanks. I worked really hard for it,'" Latoski said.
In January, Sims vanished and authorities began looking for her. Though Latoski said she knew nothing about Dutra's involvement with McNabney and his wife, she did notice that Dutra was often distracted.
"The one thing that annoyed me about her was her cell phone," Latoski said. "It was on silent, but every time it would ring, it would vibrate against a piece of paper in her bag. And she always left class to answer her phone."
The cell phone rang during nearly every class, Latoski said, and one night it rang about five times. Dutra answered it every time.
Dutra continued attending school until the night before she was arrested. Her last class was a Monday night upper division class also attended by senior government major Brendan Wonnacott.
"She seemed quiet and unassuming," Wonnacott said. "This is definitely not something you'd expect."
Rosalie Amer, professor of the class, confirmed that Dutra attended Monday night, but knew very little else about her.
After Dutra was arrested, those who had known her were left in shock. To them, she seemed like a normal student, and had even attended a party on Feb. 15, Nordas said. He invited her to the party, and Dutra came for about 15 minutes, bringing her dog with her.
According to Latoski, Dutra doted on her dog and "thought the world of it." Dutra rarely spoke to others in the class, and she usually went outside and sat by herself or talked on her cell phone during the half hour break in class, Latoski said.
Nordas said Dutra had become more outgoing, perhaps as a result of time spent in Italy.
"Her personality seemed to change a bit from when I first knew her," Nordas said. "She bleached her hair and seemed more lively."
Send comments, questions, or concerns to [email protected]
For questions or information regarding thesite, please contact [email protected]