Editorial: Please retire, Mr. President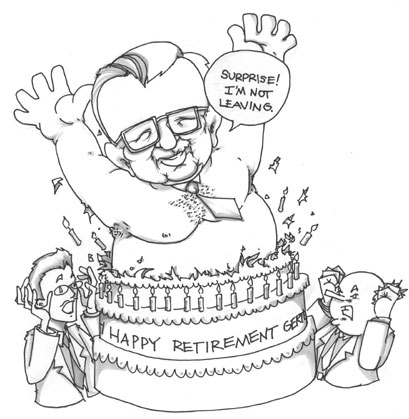 State Hornet Staff
March 13, 2002
Throughout the semester, rumors have been flying about President Donald Gerth?s potential retirement. Gerth quelled the rumor, saying, "I hate to disappoint people, but I?m not retiring." We believe he should reconsider. The actions of the president in the past year show an assault on both students and faculty in the University?s time honored tradition of shared governance.Although the University has seen growth and expanded inclusiveness during Gerth?s administration, we feel he has been out of touch with the students that are here.
Last fall, Gerth?s unilateral decision to end Monday-Wednesday classes during the day undermined the shared governance process. He made the decision after a "fact-finding" report that lasted just days. While some faculty were allowed on the ad-hoc fact-finding committee, Gerth completely ignored students. Only exhaustive work by faculty and Associated Students, Inc. to find alternative solutions, an intense student backlash and a sit-in protest in Gerth?s office dissuaded the president from his hasty decision.
His attempts to encroach on shared governance don?t end there. He has also fought tirelessly in support of merit-based pay for faculty, which, until its undoing in the recent faculty contract agreement, put de facto power of faculty raises in the hands of Gerth?s own deans. The result, according to many faculty, has been divisive competition and jealousy among departments that participated in merit pay.
Even among Gerth?s own administrators, there exists a disturbing degree of job uncertainty. Bernice Bass de Martinez, our provost for less than a year, resigned to run an African education program, according to the president?s office. However, the former provost?s statements wildly contradicted Gerth?s, stating that she had been forced out. Bass de Martinez even sought legal advice. Clearly, Bass de Martinez and Gerth disagree about her departure. What is obvious, however, is that Gerth failed to explain the instant personnel change, despite an official request from the Faculty Senate.
The Sac State athletic program under Gerth?s administraton has students paying gold for dirt. The president pushed for a referendum in the mid-1990s that charges nearly $50 per student for university sports programs. The return on that money is a legacy of losing teams and a loss of momentum evidenced by delay in hiring a new atheletic director.
Instead of acting as a champion for students and faculty, Gerth has acted in opposition to them. His actions reflect a larger California State University trend of corporatization at the hands of Chancellor Charles B. Reed, where administrator positions and salaries grow exponentially as faculty salaries and student services remain stagnant. Sacramento State needs a president whose actions truly reflect the needs of the students and faculty. Retire, Mr. President.