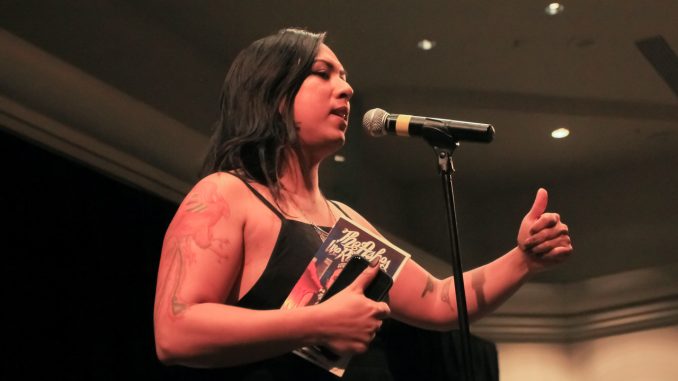 Poetic expression poured from Jade Phoenix Martinez's mouth as she stepped on stage to speak about the troubles faced by transgender women.
As part of Pride Week, Unique Programs and the Pride Center presented "An Evening of Spoken Word" on Thursday, April 6 in the University Union Ballroom with Martinez, a transgender woman who travels speaking to encourage the LGBT community.
During her presentation, Martinez spoke about the murder of transgender women.
"I don't have to keep reading name after name after name," Martinez said. "Here in America, in 2017, there have been 12 trans women of color murder (murdered) at a rate that not even this poem can keep up with."
Martinez said that she changes the names and murder rate statistics every time she speaks because of continued violence against transgender women.
"My poetry is partly unpacking the things that have hurt me, naming the things I been traumatized with," Martinez said. (Story continues below)
After having lost her grandfather at a young age, Martinez said she realized that her poetic expression should aim at supporting transgender women of color.
"I didn't wake up one morning to find my skin and masculinity shed away overnight," Martinez said. "Rather, I think of my gender and identity as something that is more fluid.
"A lot of my work is vulnerable and honest — it comes from not being afraid to tell the things that I have gone through. Showing vulnerability and overcoming helps others in similar situations believe that they can do this too."
The poetry and stories Martinez told resonated with students — both those who had heard her before, and those who were experiencing her poetry for the first time.
"This is the third time I've seen her," said Yozantil Lagunas Guerrero, a third-year Sacramento State student. "She's an amazing human being and her work is so impactful to trans communities."
Martinez's message reached a student at another campus, Sid Rix, an American River College student who wasn't sure who Martinez was, but felt connected to the stories of Martinez's struggle.
"Just the way she put everything together, it just really resonated with me." Rix said. "I have a huge love for the ocean and the way Martinez was able to to tie in nature and internalize that we truly are just stardust and that all of us are just human beings."

The following two tabs change content below.

Ricardo Coronado
Ricardo Coronado is a senior studying journalism at Sacramento State. He's currently a staff writer for The State Hornet. Ricardo had previously interned for Univision 19 Sacramento (Summer 2015) and Univision 34 news division based in Los Angeles (Summer 2016). Ricardo just recently completed his news internship with KCRA Sacramento (Fall 2016). In 10 years, he sees himself moving back home to Southern California working as reporter. As a brother of Nu Alpha Kappa Fraternity, he lives by its motto, "Men of Mind, Men of Culture, Men of Pride." Ricardo can be reached at
[email protected]

Latest posts by Ricardo Coronado (see all)