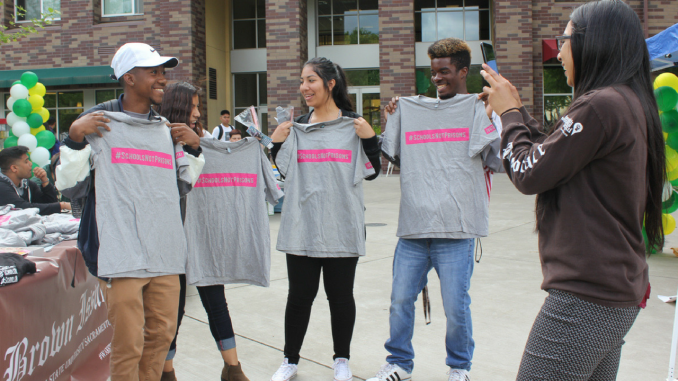 The Residence Hall Quad was filled with people of all backgrounds celebrating their differences and promoting on-campus clubs at the Multicultural Fair on Wednesday.
Participating groups at the fair included the College Assistance Migrant Problem, Japan Club, Mecha de Sac State, Queer Union, Brown Issues Sacramento, the African Student Association and the Dreamer Resource Center.
As a coordinator of the fair, first-year government major Rosa Rios-Dominguez said that idea behind the multicultural fair was to raise awareness of all the different types of multicultural clubs that are offered at Sac State.
"It's okay to be different," Rios-Dominguez said. (Story continues below)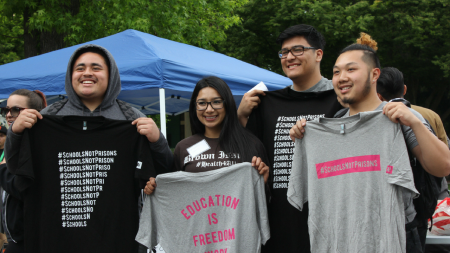 Brown Issues handed out T-Shirts with slogans such as "#SchoolsNotPrisons," the slogan of a campaign by Californians for Safety and Justice intended to raise awareness about the amount of money being spent on state prisons and how that is affecting education.
Receivers of the T-shirts were told the meaning of the slogan. One of them was Anthony Perez, a business administration major, who said that he agrees with the sentiment behind #SchoolsNotPrisons.
In the middle of the quad, there was a large poster that attendees were allowed to write on to answer the question of "What does diversity mean to you?"
Queer Union was also present at the fair. The purpose of Queer Union is to provide a space where members and allies of the LGBT community can gather to discuss social and political issues, as well as create a support system for the community.
Also at the fair was the Dreamer Resource Center, which offers higher education opportunities to undocumented students and those with mixed-status families.
Rossmeri Ramirez, a program assistant for center, described the benefits the center offers, such as workshops, resolving one-on-one conflict issues and film screenings.
Ramirez said that the center is not just for undocumented students but also for everyone who wants to aid these groups of students.
"(Everybody) is allowed," Ramirez said.

The following two tabs change content below.

Raul Hernandez
Raul Hernandez is studying Journalism at Sacramento State. He enjoys writing about sports and pop culture. In 10 years, Raul plans to move to Los Angeles or New York where he plans on writing about the latest trends in pop culture such as music, movies, trends, entertainment and sports. Raul always believes that his mind and his taste in style is still stuck in 1992 #90sBabyAllDay. Raul can be reached at
[email protected]

Latest posts by Raul Hernandez (see all)