At kickoff, Missoula, Montana posted a temperature of 44 degrees, but Sacramento State came out of the locker room red hot.
The Hornets' defense engulfed the Griz on their first two drives, allowing just one first down and negative one yard. The offense had great field position and senior running back Marcus Fulcher made his return known with 50 yards and a score.
Fulcher would end as the lone bright spot for the Hornets' offense with 87 yards on just 11 carries.
RELATED: Get to know Montana before Sac State's top 10 showdown

From there, the game would fall apart for the Hornets. Montana answered back with a run-heavy 13-play, 75-yard touchdown drive that drained six minutes off the clock.
"I thought they played well on offense, defense and special teams," Sac State head coach Andy Thompson said. "They made more plays than us for sure."
On the first two drives, Sac State went with junior quarterback Kaiden Bennett but made the switch to freshman quarterback Carson Conklin for the third drive. While Conklin had an impressive throw to pick up a first down, the drive stalled well within Sac State's own territory.
"We had a plan going into the game and that was a plan that we wanted to use," Thompson said. "[I] believe in both of those quarterbacks, but we didn't score enough points tonight."
A bad punt and good return by Montana's junior wideout Junior Bergen gave the Griz the ball deep in Hornet territory. All it took was two plays for the Griz to punch the ball into the end zone and take the lead.
"I was not surprised," Montana's head coach Bobby Hauck said about his team's 34 unanswered points. "It starts with the fact they are trained in a manner that develops physical and mental toughness, it shows up in a situation like that."
The offense continued to stall, even as Bennett returned to try and spark something. Neither quarterback could put any semblance of offense together as they ended the night with just 119 yards on 39 attempts.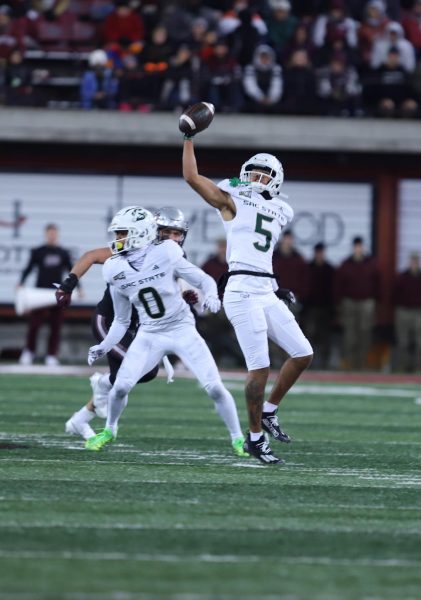 "I thought they did a really good job covering that allowed their [pass] rush to get home," Thompson said. "They had some timely calls for blitzes and put us in some tough situations."
Even after the Hornets stopped the Griz's 21-0 scoring run, they would lose starting junior safety Cameron Broussard to a targeting penalty in the middle of the second quarter.
After another good return by Bergen, the two teams scuffled on the Montana sideline and as a result, every player on each team received an unsportsmanlike conduct penalty. By rule, each player gets two unsportsmanlike penalties before being ejected.
"I think we need to be more disciplined," Thompson said. "That starts with how we do things in practice and me holding everyone accountable. The penalties have been something we need to improve on."
This would loom large over Sac State. With just two seconds to go before halftime, junior wideout Jared Gipson slammed his helmet to the ground in frustration after the offense stalled again. That was Gipson's second unsportsmanlike conduct penalty and he was ejected.
Despite the chaos and frustration surrounding the second quarter, Sac State's offense found life coming out of the half. Bennett willed his offense down the field, getting them into the red zone.
There, the drive stalled and junior kicker Zach Schreiner missed his second attempt of the day from 23 yards out. A 17-play, 77-yard drive that ended in no points for the hungry Hornets.
"Fourth-and-6 I thought was going to be tougher than getting points than getting some momentum with a score," Thompson said. "I was planning on going for it if we got a positive yardage play."
Even after McDowell exploded for a 42-yard run, Sac State's defense was resilient. Senior safety Kylen Ross intercepted McDowell deep in the red zone.
However, the Hornet offense remained on ice and couldn't make anything of Ross' third interception of the season.
Sac State was able to use the intense wind to pin the Griz at their own 1-yard-line, but almost as if an allegory for the game as soon as it looked like the Hornets might have a chance, the Griz ripped their hearts out.
McDowell takes a shot to White and he out runs everyone else, 97 yards to the house. Touchdown Griz

When I talked to @mxdupras he said the Griz were due at least one deep shot touchdown a game and there it is.

Sac State: 7, Montana: 28 – 11:03 left in the game@SH_Sports

— Jack Freeman (@JackFreeman_13) November 5, 2023
A 97-yard bomb from McDowell to junior wideout Keelan White with 11 minutes left in the game shut the door on any hope the Hornets had left.
"We had seen that look earlier in the game and Cliff said next time we get that look he was going to pump the out route to Junior because that boundary corner was biting," White said. "So we pumped it and it was open over the top."
The 27-point defeat was the largest margin in a loss for the Hornets since 2018 when they fell by 43 points in the Causeway Classic to UC Davis. The lone Sac State touchdown also marked the first time since 2019 that the Hornets have failed to score over 7 points.
This was a gargantuan loss as the Hornets fell to 0-3 against ranked opponents in the Big Sky. With only two games left, the Hornets will need to win out to keep their FCS playoff hopes alive.
"Disappointed that we didn't play better tonight," Thompson said. "Nobody is going to feel sorry for us next week so we gotta get back and get ready to roll."
Sac State hosts their last home game of the season against Cal Poly San Luis Obispo Saturday at 2 p.m.
"We definitely need to look at ourselves and be accountable for the things we did tonight, then quickly move on," Thompson said. "You don't have a choice. The sun is going to come up tomorrow and we gotta get back to work."